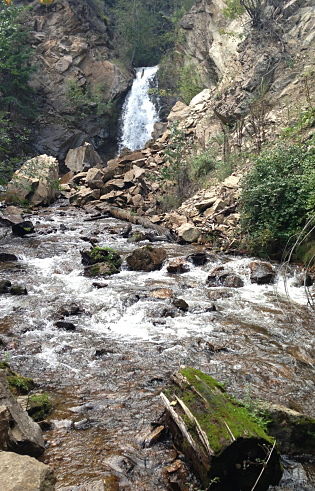 As a result of the high to extreme fire hazard and extremely dry conditions, the Regional District has closed several Regional Parks until further notice.
Hardy Falls Regional Park (photo)
Trepanier Creek Greenway Regional Park
Coldham Regional Park
Glen Canyon Regional Park
Kalamoir Regional Park
Rose Valley Regional Park
Stephens Coyote Regional Park
Scenic Canyon Regional Park
Mission Creek Greenway (Phase 2)
Mission Creek Regional Park (Sutherland Hills area on the south side of Mission Creek only)
Mill Creek Regional Park
"These closures will remain in effect until further notice," says Communications Officer Bruce Smith. "Extended forecasts predict continued high temperatures well into next week and that raises the potential danger of a serious fire.  Many of these parks that are closed are in forested areas with challenging terrain and in close proximity to subdivisions and neighbourhoods."
Residents are asked to stay out of closed parks and obey any signage. Anyone found inside a closed Regional Park could be subject to a fine of $500.
The Regional District apologizes for any inconvenience caused by these park closures and encourages visits to any of our other Regional Parks that remain open for use.
"Many of these parks offer visitors opportunities to enjoy a beach and waterfront areas for cooling down," says Smith.
Bertram Creek Regional Park
Raymer Bay Regional Park
Traders Cove Regional Park
Gellatly Nut Farm Regional Park
Gellatly Heritage Regional Park
Shannon Lake Regional Park
Kaloya Regional Park
Kopje Regional Park
Reiswig Regional Park
Robert Lake Regional Park
Okanagan Centre Safe Harbour Regional Park
Antler's Beach Regional Park
Johns Family Nature Conservancy Regional Park
Woodhaven Nature Conservancy Regional Park
Visit www.regionaldistrict.com/pickapark for links to these Regional Parks that remain open for use.