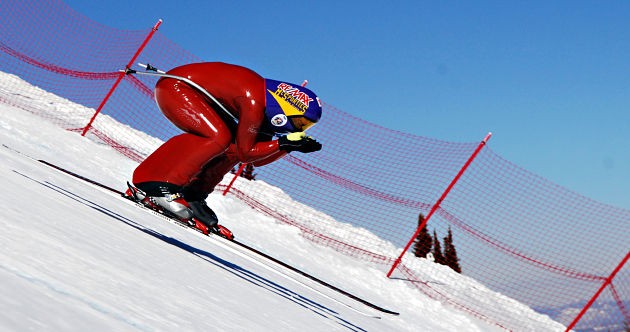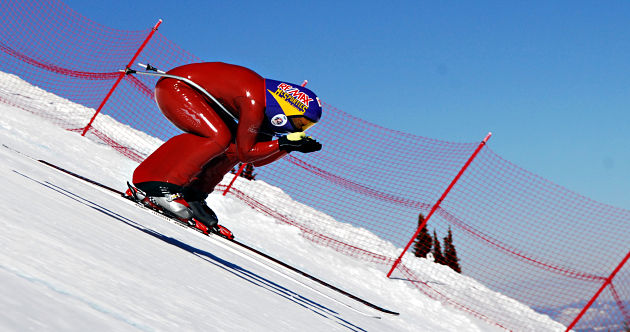 "It's crazy. It's wild. It's so fast. We're probably all a little bit nuts," says event organizer and speed-skier Adam Earle, as Sun Peaks Resort gears up to host the 2015 Bear Country FIS Speed Skiing World Cup this weekend.
Over 50 racers from around the world will descend on Sun Peaks to take on one of the most intimidating speed-skiing courses on Earth – the Headwalls ski run.
Racers will reach speeds of around 175 kilometres per hour.
"Think about the last time you were travelling at speed on the highway. You're probably doing 120 km/h. It feels pretty fast," Earle said.
"Now increase your speed another 50 kilometres and take away the car. And instead of a highway you're driving off the side of a 60 storey high building. That's what speed-skiing is like. It's the fastest non-motorized sport on the planet."
The Headwalls course is unique in speed ski races — the convex course leaves racers unable to see the bottom of the course.
"You can only see about 150 feet in front of you, and then the course just disappears," said long-time competitor Don Gagnon. "It's very intimidating, and depending on conditions, the course is slightly different each time."
The current top speed record for the course — 178.22 km/h —was set just last year by Sun Peaks racer Kenny Dale. While Dale won't be competing this year, he will be enjoying the action from the side-lines, and he's excited to see the best speed skiers on the planet challenge for his record.
"It's one of the most exciting sports to watch. Watching the racers go by, it sounds like a jet taking off. Maybe we will even see a new record." Dale said.
The FIS Speed Skiing World Cup (formerly known as the Velocity Challenge) has become a Sun Peaks tradition. It's now celebrating its 26th year in Sun Peaks, 13 years as an FIS sanctioned event — in fact it's the only FIS World Cup held outside of Europe, and the last speed skiing race in North America.
Thursday and Friday will see the FIS World Cup races between 10 a.m. and 2 p.m. and Saturday, March 14, will see racers reach their highest speeds in the Velocity Challenge.
Spectators are encouraged. The event can be viewed from the mid-mountain Sunburst Lodge or at a designated viewing area near the top of the Elevation Chairlift. Foot passenger tickets are available for $15 from Sun Peaks Resort guest services.
"It's steep, it's hard, it's fast, and we've got the fastest skiers in the world here eager to conquer the course," Earle said.
For more information visit speedskiingcanada.com.