The organizers of the Invasion Championship Wrestling series do it again — not only packing the ringside at the recently held Kelowna Invasion 5 Pro Wrestling event but also supporting more and more local children and families in need.
"One thing that is so cool about ICW growing so rapidly in popularity is that the cheques do too — meaning we can continue to give back even more to child and youth serving organizations such as the local YMCA," say Mike Chisholm, ICW organizer. "We are committed to hosting good family fun entertainment that in turn enables us to give children with financial barriers equal access to the health and child care programs that their peers have."
Mike Chisholm and ICW partner Mike Rizzo presented the YMCA of Okanagan with a cheque for $4,000, adding to the over $10,000 they have already contributed through previous wrestling events. The next big event will be held May 6 and 7, featuring legendary Mick Foley.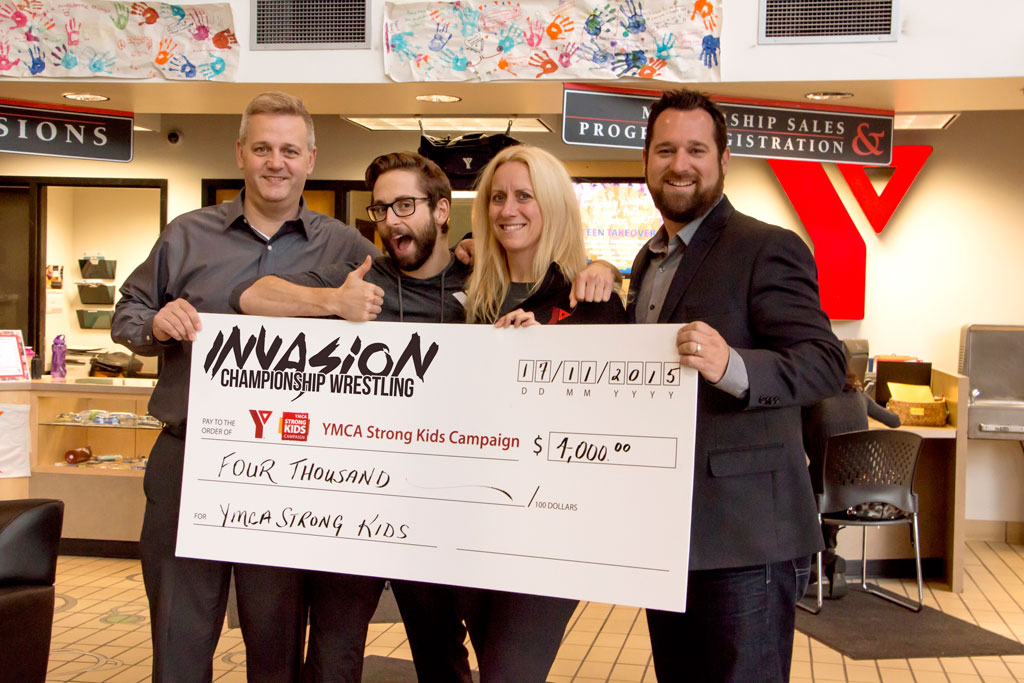 Photo:(l-r) Mike Rizzo, ICW; Collin Polmear, YMCA; Kelley Taylor, YMCA and Mike Chisholm, ICW
---
About the YMCA of Okanagan
The YMCA of Okanagan is a registered charity relying on donations from community members to ensure the Y remains accessible to all. Currently the Y serves 20,120 children and youth in child care, before and after school care, camp and recreation programs. One in five Okanagan children enrolled in these programs require financial assistance in order to participate.