Deborah Koenker: Grapes and Tortillas
Kelowna: to October 30
This solo exhibition at the Kelowna Art Gallery focuses on temporary agricultural workers from Mexico hired to work in the Valley's orchards and vineyards. It is a tribute to their hard work and personal sacrifices. As well as photographic portraits of 160 of these men and women, Koenker has added other elements to create an overall installation. www.kelownaartgallery.com.
Fiesta Mexicana
Thursday, August 18, 7 to 9 pm
This evening of celebration features Sandy Diaz Hart, activist and co-founder of the El Faro Society (For Agricultural Workers in the Okanagan), along with some of the workers themselves. The event is an opportunity to learn more about life for the temporary agricultural workers in the Okanagan. Authentic cuisine and Mexican music will add to the evening.

This event is free and open to the public. more info
Mending Fences
Penticton: Sep 8-Oct 1
Harry Sullivan hasn't seen his son Drew in 13 years, and now Drew is coming to Harry's Saskatchewan ranch for a visit. This poignant comedy tells the tale of two men who are too stubborn to give in to feelings of the heart; a love story and social commentary with witty dialogue brought by Canada's master playwright, Norm Foster. Ticket info at www.manyhatstheatre.com.

Okanagan Fall Wine Festival
Valleywide: Sep 29-Oct 9
Headlining the 36th edition of the fall wine classic are the popular Westjet Wine Tastings; Red, White, Pink and Fizzy?…?It all Goes With Cheese; Blind Wine & Cheese Social; and Cropped, an unusual pairing of wine tasting and farmers' market. Download the full description of events in the Fall Wine Festival Guide at www.thewinefestivals.com.
Okanagan Symphony
 Valleywide: 2016/17 Season
The Okanagan Symphony Orchestra is gearing up for its new season with a lineup of performances featuring Valley musicians and exciting guest appearances. The first concert, Symphonic Splendour, with guest artist Lara St. John, is scheduled for October 21-23. Check online for dates in Vernon, Kelowna and Penticton. www.okanagansymphony.com
---
As seen in: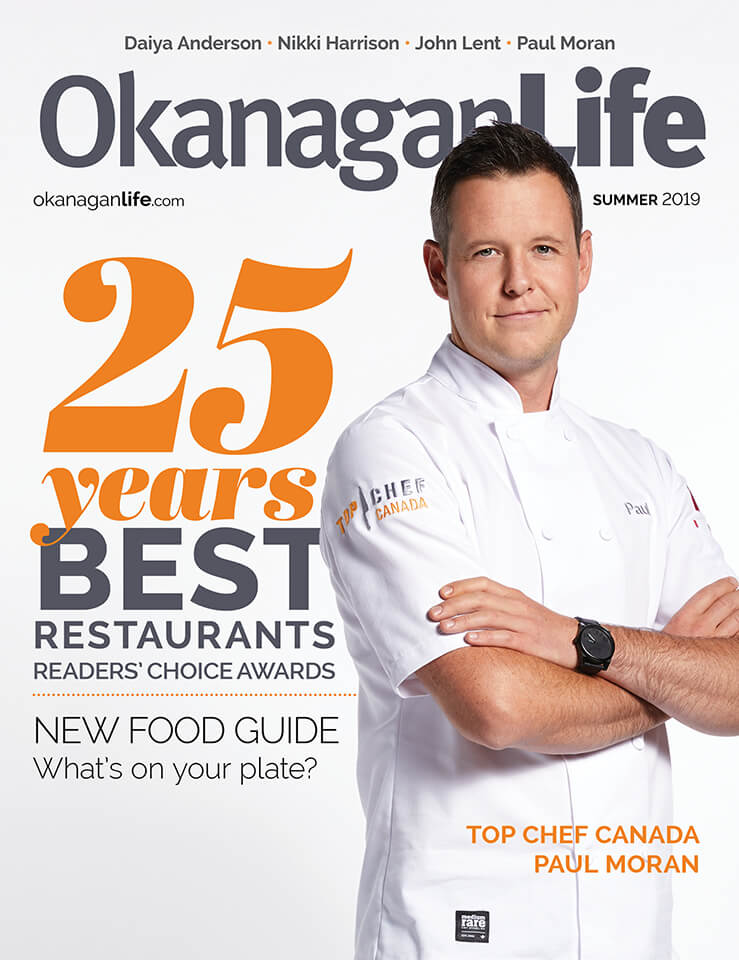 The readers of Okanagan Life are celebrating our 25th year of presenting the annual Best Restaurants Awards. On the cover, Canada's Top Chef Paul Moran. Writer Shannon Linden has delved…