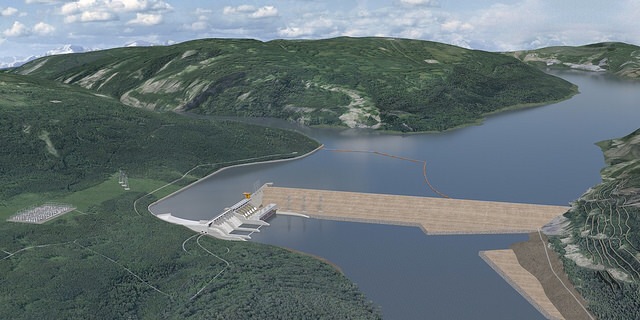 Canadian mega-project spending is on the rise. The value of the country's 100 biggest public infrastructure projects has grown to $157.9 billion, a 12-per-cent increase over 2014's $140.5 billion, according to business magazine ReNew Canada, which today released its annual Top 100 Projects report.
The list is dominated by $62.3 billion in energy projects, with hydroelectric generation—including the controversial and costly BC Hydro Site C dam—claiming the first four of the top 10 spots:
Site C Clean Energy Project (British Columbia)
$8.775 billion
Muskrat Falls Project (Newfoundland and Labrador)
$6.99 billion
Romaine Complex (Quebec)
$6.5 billion
Keeyask Hydroelectric Project (Ontario)
$6.5 billion
Eglinton Crosstown LRT (Toronto, Ontario)
$5.3 billion
New Bridge for the St. Lawrence (Quebec)
$5 billion
Southwest Calgary Ring Road (Alberta)
$5 billion
Bipole III Transmission Line (Winnipeg, Manitoba)
$4.6 billion
Turcot Interchange (Montreal, Quebec)
$3.7 billion
Port Mann Bridge/Highway 1 (Vancouver-Langley, British Columbia)
$3.3 billion
Beyond energy, the report includes 21 transportation projects, 17 transit, 21 buildings, five water/wastewater, two each of carbon capture and remediation, and one waste management.
"There are 25 newcomers in 2015, representing $33.1 billion in new mega-project investment, which is positive sign," said André Voshart, Executive Editor, ReNew Canada. "Infrastructure is a catalyst for economic growth. Research shows that every dollar invested in infrastructure increases GDP by $1.60, outperforming other forms of stimulus."
The report ranks public projects by cost, including descriptions, funding sources, and key players. The list excludes privately held oil and gas developments and can be accessed at top100projects.ca.