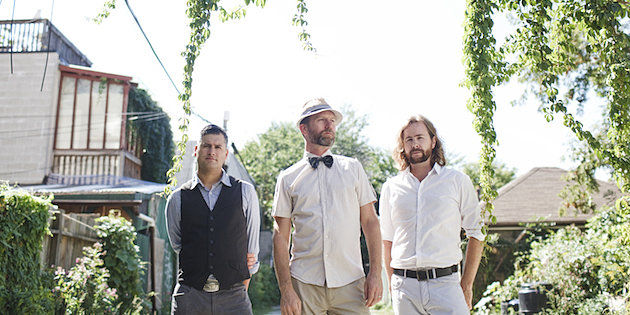 Two of Canada's favourite independent bands will join ARKELLS on Labour Day long weekend at the outdoor ski slope venue in Sun Peaks. Juno winners, ARKELLS, perform on Saturday, August 30, followed by Elliott BROOD and Hey Ocean! on Sunday, August 31. Regional and local bands will add energy and atmosphere in the village at other outdoor stages throughout the weekend.
"These two bands are the perfect additions to complete the 2014 Summer Concert Series," says Christopher Nicolson, president of Tourism Sun Peaks. "With five major weekends of free outdoor music and a new Friday night concert series, Sun Peaks is a top music destination in the region. Acts span a wide range of genres, from country to kids' entertainers. These bands will add an energizing folk rock and pop component to the series and will also complement ARKELLS's sound."
Since forming in 2002, Elliot BROOD has become a Canadian music institution, with hits like "Oh, Alberta!" and more recently "When I Get Old". Their newest album Days Into Years features roof-raising rhythm stomp and mandolin colliding with luscious harmonies, piano and, for the first time, electric guitar.
While General Access and viewing on the natural amphitheater of Sunbeam ski run is free, guests may purchase Front Stage Access tickets to a closer viewing area. Best value pricing for the Labour Day long weekend includes free Front Stage Access tickets with three nights of booked accommodation. For all package and accommodation options go to www.SunPeaksResort.com/Labour-Day.
Hey Ocean! combines sheer talent, charismatic songs and an undeniably energetic live show, making them a must-see band. They are often described as one of Canada's best up-and-coming acts, with an ability to blend various musical styles into a brand of infectious pop that is uniquely their own.
The 2014 Summer Concert Series kicks off in one month with Dan Mangan + Blacksmith on July 4 and Canadian music icon Blue Rodeo on July 5. Sun Peaks' first Country Fest, featuring Aaron Lines and eight other country bands, is on July 19 and 20. Massively popular children's entertainers, The Doodlebops, will headline Canada's Alpine Blossom Festival on August 2. The 5th Annual Retro Concert Weekend takes place on August 15 to 17 and has drawn top tribute bands from across the country. The summer will be topped off with three of Canada's best bands taking the stage on August 30 and 31.
"A free concert weekend at Sun Peaks has become a 'must do' summer experience in Interior B.C.," says Nicolson. "Last year we welcomed more summer guests to the resort than ever before, and we are looking forward to even more people discovering Sun Peaks as the perfect summer getaway this season. People are drawn to the top quality entertainment paired with the many opportunities for outdoor adventure in a spectacular mountain setting."
For complete concert listings go towww.SunPeaksResort.com/Concerts.
2014 Sun Peaks Summer Concert Series
July 4 – Dan Mangan + Blacksmith
July 5 - Blue Rodeo
July 19 & 20 – Country Fest ft. Aaron Lines
August 2 – The Doodlebops
August 15 to 17 – 5th Annual Retro Concert Weekend
August 30 - ARKELLS
August 31 – Elliott BROOD and Hey Ocean!