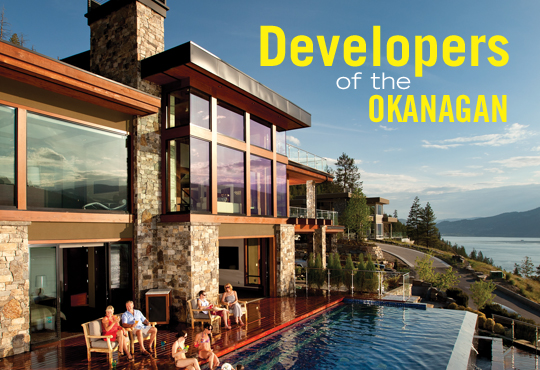 A showcase of new and ongoing developments that maximize the Okanagan lifestyle ...
Bridges at Glenview Pond | Dilworth Homes | Ponderosa | Wilden | Village at Kettle Valley | Urban Development Institute – Okanagan | The Garage Sale |

Bridges at Glenview Pond
People looking for a sense of nature in the city are drawn to Bridges at Glenview Pond in Kelowna. Thousands of daffodils have already bloomed in the shared green space. The ducks never left and a stately blue heron has been spotted at each of the ponds.
Building continued throughout the mild winter and 10 heritage style homes are under construction with more in the works. Visitors to the two showhomes see why Bridges has won 30-plus awards. Honoured as Community of the Year for Phase One in 2009 and again in 2011 for Phase Two, Valux Homes Ltd. won a stunning four gold trophies and seven silver awards, including Builder of the Year, in this year's competition.
But more important than all the recognition is the constantly growing array of happy clients and new referrals. The Valux team takes pride in getting to know their clients' needs and wants, then using their unique design process to build a house that fits like a glove.
Valux president, Jim Andrews, truly has his clients' best interests at heart. Everyone who comes to Bridges gets expert advice on the ins and outs of building a new home. A designer is available to help with decisions such as paint colours, flooring and other materials. Onsite, construction manager, Joe Rood, ensures that building progresses smoothly and every detail is looked after.
"Joe and Jim are very professional and a pleasure to deal with," says one new Bridges homeowner. "They always received our calls in a positive manner and addressed our concerns in a timely fashion, which served to strengthen our builder/client relationship."
Bridges is centrally located on the fringe of the downtown core with amenities like the Kelowna Golf and Country Club, Waterfront Park, Prospera Place and Orchard Park Mall just moments away.
Roads are flat and easy for cyclists and walkers. Geothermal heating and cooling replaces noisy external air conditioners. Cost effective and green, geothermal adds to the tranquil atmosphere as residents enjoy the outdoors, which is one of the most outstanding features offered by Valux Homes.
The Bridges site encompasses a two-acre park, pond and creek area, an upper and lower pond, waterfalls, an island for picnics—and those picturesque bridges.
Bridges at Glenview Pond
1358 Glenview Avenue, Kelowna
250.763.7209
www.bridgesliving.com

Dilworth Homes
The views from the top are amazing—lake, valley, city, nature—you can see it all from Dilworth/Dilworth Mountain Estates where the news today is the Selkirk neighbourhood. The 2008 Neighbourhood of the Year is expanding with a selection of new single family homes now being built and sold. House and lot packages start at $429,900.
In addition, the Summit at Selkirk is the newest and last of the semi-detached townhome developments in the Selkirk neighbourhood. Ranging in price from $474,900 to $719,900, the 20 dwellings in this exclusive enclave boast luxury finishing as standard fare. The Abercrombie showhome illustrates this quality and attention to detail. The most spacious of the six plans at Summit at Selkirk, it offers nearly 3,000 square feet of living space perfectly designed for people who want the convenience of the lock and leave lifestyle in a home that's tailor-made for entertaining.
The Sandford is another of the featured homes for the new townhome neighbourhood. Buyers can select this exact bungalow with walkout floor plan or a customized version. Little wonder that readers of Okanagan Life voted Dilworth Homes among the Best of the Okanagan for 2011.
Dilworth Homes
Selkirk & Summit
971 Monashee Place, Kelowna
250.861-8989
www.dilworthhomes.com

Ponderosa
In a historic partnership with Treegroup and the Westbank First Nation, Greg Norman brings his love of the good life to the shores of Okanagan Lake with the introduction of Ponderosa to the town of Peachland. A signature golf community unlike anything in the Pacific Northwest, Ponderosa features a premium estate winery, remarkable lakefront vistas, expansive amphitheatre, NHL-sized outdoor ice rink and a spectacular signature course personally designed by the Shark.
The Ponderosa team is very excited to announce the release of the first phase of 69 luxury townhomes for pre-sale. The 2- and 3-bedroom townhomes are situated on the signature Greg Norman golf course and many enjoy unobstructed lakefront vistas. Construction on the townhomes, which range from 1,247 to 1,994 square feet, is scheduled to begin this spring with the first residents moving in during the winter of 2012.
Carved from rugged rock and wilderness forest, the 400-acre site wraps around the base of Pincushion Mountain. With the 7,200-yard champion caliber golf course as its centrepiece, the all-inclusive community will eventually encompass 2,300 residences. Ponderosa will feature homes in a range of prices to satisfy a wide demographic. The goal is to create: "A place that you may never want to leave." Offerings will include single and multi-family homes, townhomes, condos, golf cottages and wine villas, released in stages. Pre-sales for craftsman style single family homes start this spring followed by golf cottages and wine villas.
Fourteen holes on the golf course are near completion while extensive construction continues on the last four holes. Seeding of the 18 holes is scheduled for this summer, keeping on track for the scheduled grand opening in spring 2013. Greg Norman and members of his design team say that Ponderosa, with its breathtaking views and stunning elevation changes, will rank among the top three courses they have designed on six continents.
Ponderosa recently named Doug Goubault general manager/resort, which means, "I am in charge of everything fun." Doug is a leader in the golf resort industry, known for building exceptional teams focused on memorable experiences. Most recently director of golf at Predator Ridge in Vernon, Doug also brings 10 years of experience with Fairmont Hotel & Resorts in Mexico and Canada. While director of golf at El Camaleón, Mayakoba, in Playa del Carmen, Mexico, Doug was responsible for opening the new golf course, which was named Best New International Course by Travel and Leisure magazine. He was also instrumental in creating the first PGA tour event outside Canada or the USA.
Realtors Julia Debolt and Kate Vance operate the Ponderosa Discovery Centre daily from 12 p.m. to 5 p.m. at the IGA shopping plaza on the corner of Hwy 97 and Clements Crescent, Peachland.
Ponderosa
Unit #64, 5500 Clements Crescent, Peachland
250.767.2148
ponderosaliving.ca

Wilden
Wilden is the largest master planned community between Vancouver and Calgary. When complete the development will encompass more than 2,800 homes north of the Kelowna city centre. Gerhard Blenk, whose long-term vision was to create the finest community in the Okanagan, originally invited five of the best builders in the Valley to construct the homes on the lots he was developing. Nine years and 400 homes later, Authentech Homes, Meadowridge Homes, Fawdry Homes, Rykon Construction and Edgecombe Builders are still working on Wilden.
This year, the big news on site is construction of the $10 million road joining the east and west sides of the development. The largest private infrastructure project in the Okanagan this year, and completed at the developer's expense, this 2.3-kilometre drive has been compared with the impact of the new gondola linking Whistler and Blackcomb mountains at Whistler Resort. When complete, the road will serve as access to the new Upper Canyon Neighbourhood consisting of 75 incredible view lots. This November, the entire Wilden development becomes one.
Over the years, Wilden and its team of select builders has always kept fresh and up to date. This tradition continues with the community's fourth Street of Dreams showhomes now being built in the new Skylands neighborhood.
Two of the six showhomes are currently under construction with preparations for the balance to be under way and open by the spring of 2013. Scott and Gina Tyreman of Authentech Homes are opening up their latest creation in June 2012.
The topography of Wilden creates cozy neighborhoods naturally. Hidden Lake Lane is a prime example. This little village of 25 maintenance free townhomes is tucked into a beautiful pocket above Hidden Lake. The 2,700 square foot homes have four bedrooms with front and rear decks to take advantage of views and privacy. Like all neighborhoods at Wilden, they work with nature and the lay of the land.
Lost Creek is the fastest selling neighborhood in Kelowna with more than 32 house and lot plans starting from under $400,000. Home sites range from private backyards backing onto forest to unobstructed lake and city views.
Even in tough times, the cream rises to the top. Wilden's new Skylands neighborhood provides what the developer believes are the best lakeview lots in Kelowna only 10 minutes from downtown. With 15 homes now built and another six underway, the Skylands neighborhood is recognized as one of the best lakeview locations in the Okanagan.
Also in the news, Wilden "likes" Facebook. With over 400 homes now built and with all that's going on at Wilden, Facebook is the communications forum for everything from events and current offerings, to garage sales to baby sitters. Wilden residents and future residents can now stay informed by logging on to Facebook, searching Wilden and adding Wilden as a friend. Done.
Wilden
286 Clear Pond Place, Kelowna
250.762.2906
www.wilden.ca

Village at Kettle Valley
From its inception in 1996 to the present day, the Village of Kettle Valley has remained true to its vision of developing a community based on the concept of New Urbanism. An urban design movement that arose in the United Stated in the early 1980s, New Urbanism promotes walkable neighborhoods that contain a range of housing types and amenities such as a town centre, school and parks.
Communities like Kettle Valley lead the way in reforming many aspects of real estate development, urban planning and municipal land use. It has taken some time, but the concept has caught on and you can see the living results in the continually growing village located on the sunny slopes of south Kelowna.
Individual pride in home ownership is evident throughout the community and the developers like to give residents credit for helping to shape the beautiful streetscapes found there.
Chute Lake Elementary School stands as the cornerstone of all things new and exciting in Kettle Valley. The Village Centre is also expanding to include new businesses such as a new restaurant, daycare centre, coffee shop, health spa and flower shop, with provisions to attract more businesses in the future.
The core of Kettle Valley is almost complete and development is now progressing on the remaining three communities. The Pointe subdivision is the first and it will be followed by the Highlands. The final phase will move on to the Summit, which will feature spectacular view lots sized to accommodate expansive floor plans with space for three-car garages and in-ground pools.
The Pointe is a departure from the quaint traditional architecture normally associated with Kettle Valley. While this style appeals to many buyers, the developers recognize that it is not necessarily right for everyone. So the Pointe will have the feel of being separate from the rest of the community.
The developer is currently in the process of creating plans with a group of select builders that represent a range of design elements including Tuscan/Mediterranean, European, American cottage, French country and Prairie along with a new style that they call Okanagan transitional, a modern earthy style with hints of architecture by Frank Lloyd Wright.
Village at Kettle Valley
447 Lakepointe Drive, Kelowna
250.764.2199
www.kettlevalley.com

Urban Development Institute – Okanagan 
Driving into the Okanagan 15 years ago, I opened my windows and took one of the deepest breaths of my life. The May air was full of blossom fragrance and warm sun and having just driven the 11 hours from northern Alberta, I knew we had found home.
The Okanagan has grown since that day. Once dependant on a small, unilateral economic base, the region has emerged with an expanding economic platform. In order to provide for that growth, development companies have created homes for people moving into the region, offices for corporations, warehouses for manufacturers, hotels for visitors, and hospitals, universities and schools to serve the community.
Developers in the Okanagan are passionate individuals with vision, committed to a life's work of making sure that those structures are the most sustainable, viable and beautiful that can be offered in the Valley.
As current president of the Urban Development Institute (UDI) Okanagan, I have taken on a new role to ensure that this legacy continues. Leading a team of dedicated and passionate developers and consultants invigorates my daily routine of development. Through the leadership team the UDI educates, informs and advocates for the development industry in this region and in the province.
This is important because you know someone who is employed by one of our members, works for one of the developments being built, is housed in one of the buildings created or is part of a community created by the planning efforts of consultants and executed by a construction company employed by a developer. The UDI represents thousands of people employed in land planning and development including architects, planners, developers, financial lenders, construction workers, lawyers and engineers.
Its mandate is to foster effective communication between industry, government and the public to improve both housing and job opportunities for the Okanagan Valley. In fact, 18 per cent of the people employed in the Okanagan are employed directly or indirectly by the development industry. Members of the UDI across the province contribute $30 billion dollars annually and more than 250,000 jobs.
As a member of Partners in Community Building, our organization is committed to working with the public and governments to create and achieve the vision of balanced, well-planned and sustainable communities. It promotes wise and efficient land use, sound planning and good development practices.
Part of the reason I chose a career in this field was because of this impact. I want my children to walk down a street and see a beautiful building built by my company or understand how I positively impacted the sustainability of our community. I want my grandchildren to know that I helped to build a better Okanagan community. I want to help move our region into greater maturity and increased health. This growth occurs best when done with thoughtful planning, beautiful architecture, sustainable practices and cultural significance. I am proud that the Urban Development Institute is part of this positive future and love that we are helping to build sustainable communities.

The Garage Sale 
The unique world of the Garage Sale auction event is a modern alternative for selling your largest and most valuable assets in a fixed time frame. Auctions allow both buyers and sellers the opportunity for a faster, more seamless transaction when compared with the more traditional, slow moving and often over-negotiated ways of buying and selling. Through a strategically marketed, event-style auction, Garage Sale brings buyers and sellers together and offers both parties an improved way to deal with unique properties and priceless assets.
The Garage Sale's latest consignment is a multi-million dollar estate and classic collector's wine cellar located in the exclusive community of Sheerwater. The estate is currently available for private viewing and a Buy It Now price is posted online for anyone looking to snatch it up before the auction.
The Garage Sale
101-1630 Pandosy Street, Kelowna
778.484.5300
www.thegaragesale.co