Osoyoos will rock the South Okanagan, June 27 to July 1, during the first ever Desert Live Music Festival jointly presented by Eastlink and the Town of Osoyoos. A free, all-ages event, Desert Live will happen right on the lakefront at Gyro Beach.
"We're very pleased to partner with the Town of Osoyoos to bring you this year's Desert Live Music Festival," says Eastlink Regional Manager Shawn Mudge. "As a community-driven organization, we're always looking for ways to give back to our customers and support the Town of Osoyoos. We're honoured to deliver on this commitment and we hope to see everyone at this year's Desert Live Music Festival."
The musical lineup will feature rock, reggae, funk, soul, blues and more. The five-day festival will showcase a talented, all-Canadian lineup, including: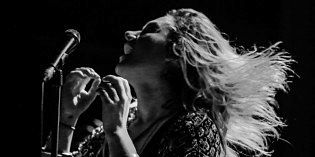 + No Sinner
+ Redeye Empire
+ Shawn Hook
+ Tasman Jude
+ Yukon Blonde
Local favourites include Ari Neufeld, Poppa Dawg and Devon Coyote.
In addition to the featured artists, festival-goers can look forward to a host of other fun activities, including: Performances by the Nankama Drum Troupe (Voted one of the Best Live Performing Arts groups), along with rhythmic drum circles led by Nankama; a BMX and Skateboard Competition; and various on-site food vendors and artisans.
"The goal of the festival is to create an exceptional experience for our visitors and local residents," says Mike Campol, Chair of the Music Festival Committee. "We want to create a space where you can relax with your friends or family, have a beer and allow the music to breathe new life through Canada's only desert. And, in my opinion, there is no better backdrop than the shoreline of Osoyoos Lake for this to take place."
Desert Live kicks off on Friday, June 27, from 3 pm to 10 pm. From June 28 – July 1, hours of operation are 11:30 am to 10 pm. The festival coincides with the legendary Cherry Fiesta, Osoyoos' annual Canada Day party on July 1, culminating with the fireworks display that night, the largest Canada Day fireworks display in Western Canada.
"Osoyoos Town Council is very excited to be a presenting sponsor of the Desert Live Music Festival," says Stu Wells, Mayor, Town of Osoyoos. "We are very supportive of this musically diverse premiere event that will lead into our fantastic July 1st celebration and our nationally recognized fireworks display. We extend Canada's warmest welcome to join us in the desert."
To learn more about Desert Live, visit desertlive.ca.