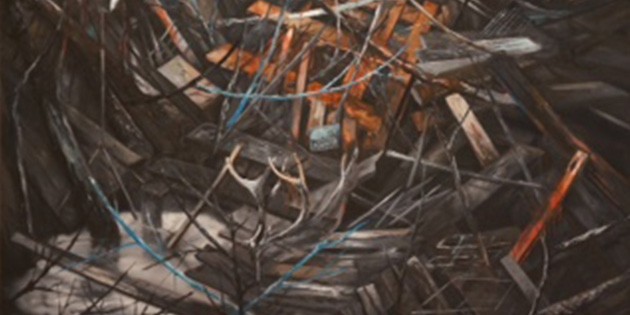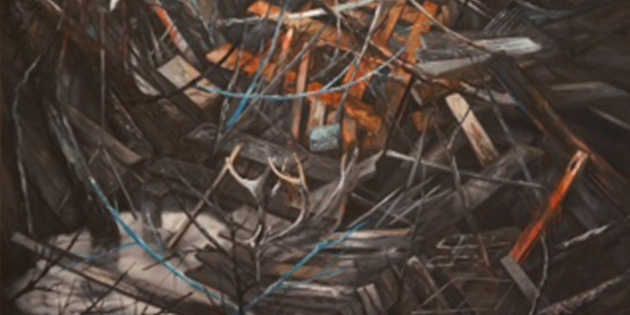 Visitors to a new solo show by BC artist Jeroen Witvliet at the Kelowna Art Gallery may feel as though they've stumbled onto a set for a post-apocalyptic movie. Many of Witvliet's paintings have a dark, brooding, nightmarish quality.
The exhibition's title is taken from a work entitled Wayfarer by 16th century Dutch artist Hieronymus Bosch, who is known for his fantastic imagery, detailed landscapes, and especially for his macabre depictions of hell.
Works from Witvliet's Wayfarer series, as well as from his Day/Night/Day Stadium paintings, and a series of new works depicting clasping and grasping human hands comprise the show. The Wayfarer paintings are dense and puzzling works, fascinating in their seemingly random detail – with piled debris including branches and twigs that appears to harbour strange objects such as antlers, a toad, and even a dancing skeleton.
The artist conceives of the overall installation as a complete experience, rather than just a gathering of distinct works. To that end, several works are attached to wooden structures that stand in the middle of the gallery – not secured to the walls. Witvliet is interested in the entire charged gallery space – and in visitors' interactions once they are in that space.
The artist completed his MFA from the University of Victoria in painting in 2014. He is currently living and working on Vancouver Island, outside of Victoria.
The exhibition is accompanied by a 52-page catalogue, which includes black-and-white reproductions of the works in the show, and curatorial texts by Liz Wylie and Vancouver-based, independent curator Toby Lawrence.
Jeroen Witvliet: Wayfarer will be on view through October 18, 2015.
A special evening of Quick Talks with the artist and other panelists has been scheduled for Thursday, September 17, from 7 to 9 pm. This free event will include talks about the relationship between figuration and narrative, followed by a discussion.
The Kelowna Art Gallery is located at 1315 Water Street in downtown Kelowna. For more information about current exhibitions, public programming or special events, please visit the Kelowna Art Gallery online at www.kelownaartgallery.com or call 250-762-2226.