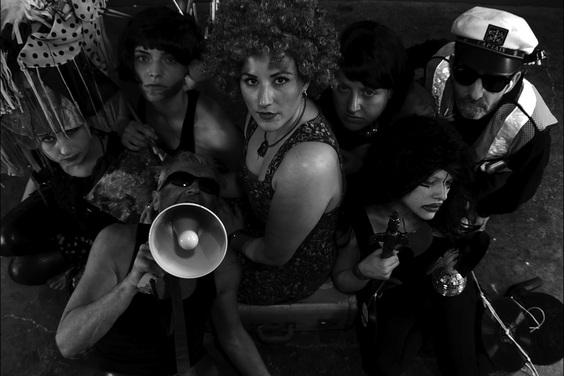 The Alternator Centre for Contemporary Art is taking part in the cross country screening tour of Cold Iron is a Titanic Comedy, an operatic digital art film inspired by a classic form of Japanese theatre called kabuki. The screening takes place 7 pm, July 30 at the Alternator Centre. The screening is free to the public.
Described by director Wesley Rickert as a "tin-foil road-trip to Florida & the British Museum, in faster Chinese that dialogues over the electric kettle of Toronto's City Hall and rotates in perpetual stillness towards a tsunami of row-boat performances," this 72 minute project was independently made and pursues abstraction, surrealism, dada, performance art, neoism and the absurd.
The film premiered January 23 at CineCycle Cinema in downtown Toronto.
"There is never a dull moment as this fun, sexy, surreal, thought provoking seventy minute tour de force floats seamlessly through a titillating and mind blowing consciousness of sight and sound," says film and performance reviewer David Bateman.
Cold Iron is a Titanic Comedy is a made-in-Canada film created and released by the artist group 253469. Starting Wednesday, June 25, 2014, this feature length film will tour nine provinces and territories across Canada.
253469 is an umbrella to multiple productions, projects and events. Located in downtown Toronto, 253469 creates, supports and promotes digital film projects, performances, art objects, experiments and collaborations with artists internationally.
The Alternator Centre for Contemporary Art is an artist-run centre located in Kelowna at the Rotary Centre for the Arts, 421 Cawston Avenue. The Alternator Centre for Contemporary Art is a registered non-profit charitable organization dedicated to the development of the creative community. Since 1989, the Alternator has shown the work of emerging Canadian artists, focused on innovative and non-traditional mediums engaged in social and cultural issues.