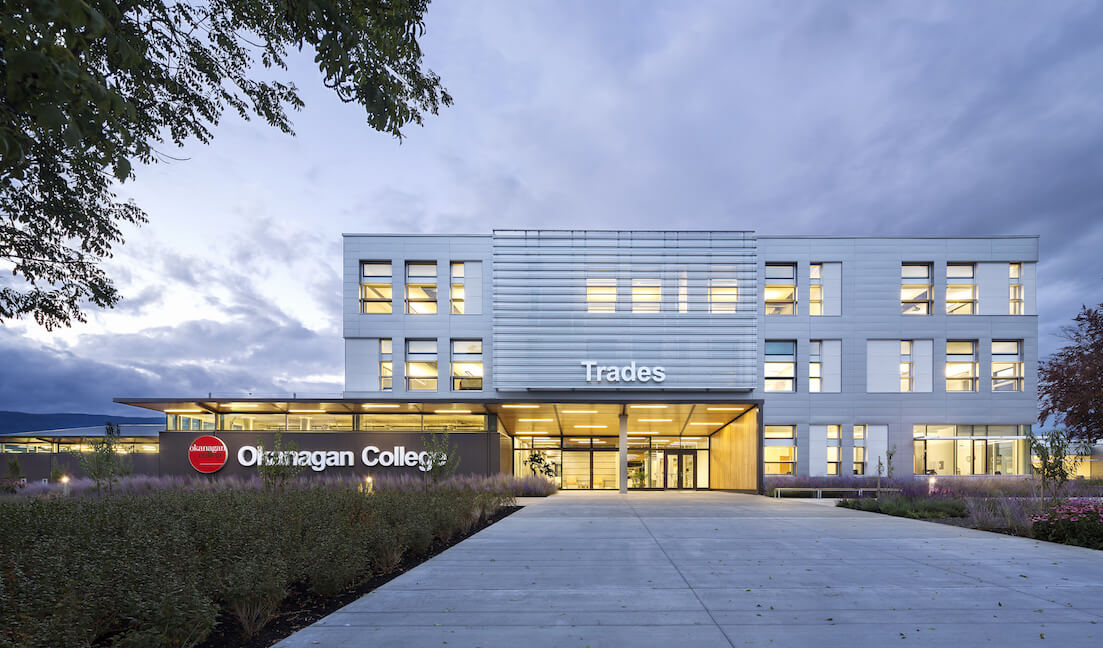 Green technology took top nods at the 25th Tommie awards, with two Okanagan College projects recognized for their environmental innovation. Held by the Canadian Home Builders Association, the Tommie Awards celebrate the achievements of the Okanagan's building industry's finest.
One of the most advanced and sustainable trades training facilities in the world, the College's new Trades Complex at the Kelowna campus landed top spot for Best Environmental Initiative at the awards Gala on January 28.
The three-year, $35-million project was designed by Diamond Schmitt Architects in association with David Nairne + Associates and constructed by PCL Constructors Westcoast Inc. with the goal to be certified LEED Platinum and achieve net zero energy usage.
The ambitious project involved a 10,000 sq. metre renovation and expansion that included building a new three-story learning space and state-of-the-art workshops as well as retrofitting and environmentally upgrading existing facilities.
Every effort was made in the Complex's design to integrate renewable energy sources. The heating system utilizes waste heat from the treated effluent of the neighbouring wastewater treatment plant and the facility boasts the second largest photovoltaic solar array on a non-utility institutional building in western Canada, generating enough energy to power more than 25 homes per year (the College's Jim Pattison Centre of Excellence in Penticton is currently the largest solar array.)
The Trades Complex also incorporates smart technologies to minimize its carbon footprint. The automated windows of the "breathing" atrium regulate heating and cooling based on temperature and sun position. Trades shops were outfitted with on-demand ventilation to significantly reduce energy waste during hands-on training.
The Complex, which officially opened in September 2016, has the capacity to train 2,700 students a year for in-demand skills.
The Trades Complex is the College's first campus building to win a Tommie and is one of two sustainability-focused projects the College was involved with that were honoured at this year's ceremony.
The Wilden Living Lab, a collaborative project between the College and four community partners, also received a gold, winning the FortisBC Award for Building Energy Efficiency.
Built with assistance from 17 of the College's Residential Construction students, the Living Lab is a real-world study on sustainable homebuilding – the only of its kind in North America.
Comprised of two identical homes with different energy-efficient technologies that will be monitored and compared over a three-year period, the Lab's Home of Tomorrow incorporates renewable energy sources, including geothermal heating and cooling, solar panels and a heat pump water heater.
"To be recognized in our community for two leading-edge environmental initiatives is very affirming," says Jim Hamilton, President of Okanagan College. "We pride ourselves on having set and achieved high standards for sustainability. The Trades Complex and Living Lab demonstrate how we continue to achieve that standard."
The Living Lab homes mark the 49th and 50th projects of the College's Home for Learning program.
Okanagan College has previously won three Tommie awards for Home for Learning projects.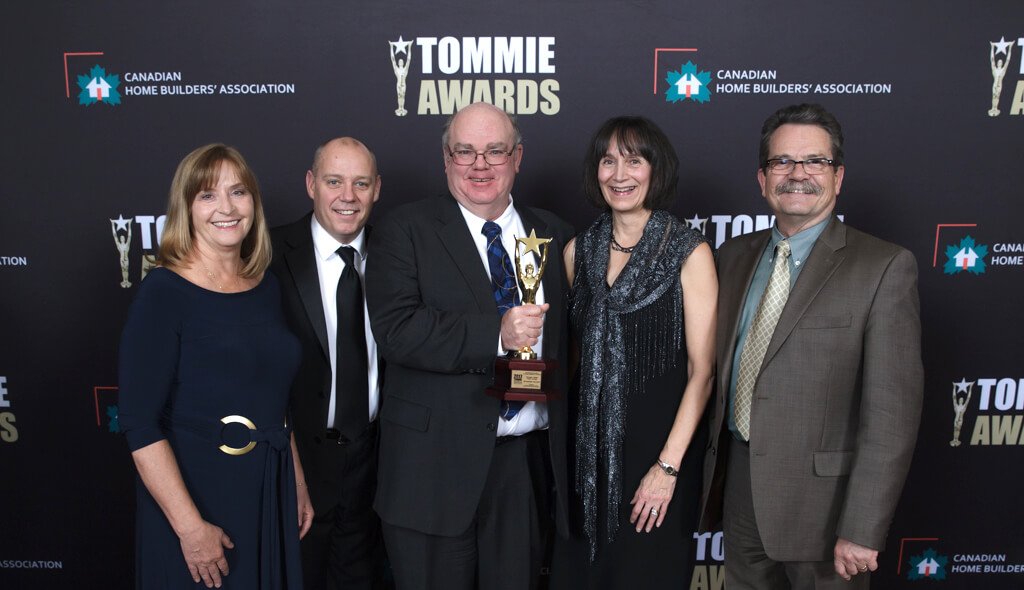 Kathy Butler (Director, Advancement & Alumni and Executive Director, Okanagan College Foundation), Gary McEwan (Manager, Special Projects, PCL Westcoast Inc.), Roy Daykin (Vice President, Employee and Corporate Services, Okanagan College), Charlotte Kushner (Vice President, Students, Okanagan College) and Steve Moores (Dean of Trades and Apprenticeship, Okanagan College) at the Tommie awards.