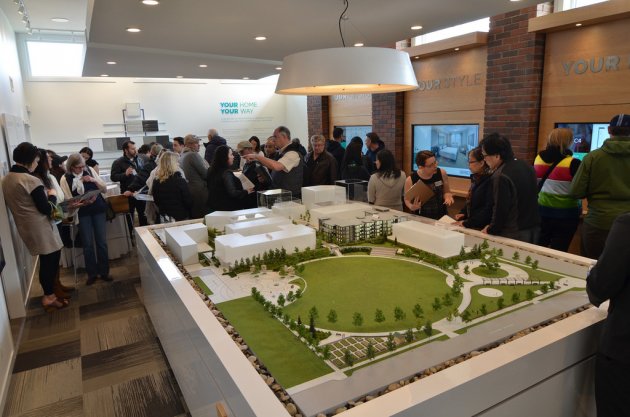 Over $10 million in sales on opening day
Kelowna's newest community on the corner of Harvey and Richter is proving to be popular with Okanagan homebuyers.
At the opening sales weekend, Okanagan builder Mission Group sold over $10 million of the first residential building planned for Central Green.
"Central Green is so attractive for homeowners looking for urban living in such a prime location in the downtown," says Randy Shier president of Mission Group Homes. "This development has been envisioned for many years so it wasn't too surprising to see so many people camp out for hours before the doors opened for sales. Our team was busy helping homeowners write contracts on their new homes all day."
More than 600 hundred people gathered for a chance to see the display home, and for many to ink their name on a purchase contract.
The rapid sales at Central Green come on the heels of the record-breaking homes sales in B.C. last month. February had the largest real estate sales Kelowna has seen since 2008.
Okanagan Mainline Real Estate Board reported home sales across the region trending near a record pace. Residential sales were up 25 per cent from February 2015.
B.C.'s strong performing economy provides a great foundation for home sales at Central Green, says Shier who welcomes the growing optimism in the local real estate market.
"Kelowna has always been an attractive place to live, but now with robust employment growth and low mortgage interest rates driving sales, we're expecting this buzz about Central Green to continue in the ensuing weeks."
The heritage-inspired modern lofts at Central Green are the first residential homes in Kelowna's newest master planned community on approximately 13 acres in downtown Kelowna. In partnership with Al Stober Construction, Mission Group Homes is leading the development of this sustainable community featuring an expansive five-acre park, and an amenity-rich location that is close to beaches, shopping, dining, and endless outdoor recreational activities.
Explore the Discovery Centre and Display Home located at 1800 Richter Street, open daily from noon until 5 p.m., except Fridays. centralgreen.ca