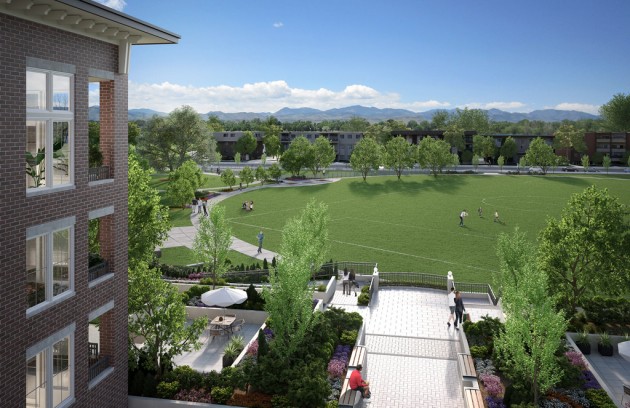 $4.4 million 
Rowcliffe
 Park expands over two hectares
Homes at Central Green, Kelowna's newest master-planned community, will offer residents all the benefits of parkside living. Planned for development in 2017, Rowcliffe Park has an estimated value of $4.4 million and will expand over two hectares (five acres). The community park is set out as Priority 1 in the City of Kelowna 2030 infrastructure plan, which goes before City Council later this month.
"Green, open space spawns recreation – and recreation encourages people to live healthier lifestyles," says Randy Shier President of Mission Group Homes, the developer behind three residential green buildings to be built aside the community park.
"We know that people value the time they spend in city parks, whether walking a dog, throwing a ball or having a picnic," says Shier. "These spaces contribute to our sense of community. We are planning Central Green to be active, greener, and more walkable, offering places where children can play and you can meet your neighbour."
The City of Kelowna's plan for Rowcliffe Park includes a perimeter walking/biking circuit and a field area for informal games of soccer or football. The Buckland Plaza entrance will feature a children's playground, and on the east side will be a small stage for performing arts, adjacent to the first Central Green building off Richter Street.
Community gardens as well as a fenced off-leash dog park are featured along the park's south edge along Rowcliffe Avenue. The park's south entrance is planned through an arbour walkway leading to the existing heritage tree that will remain on the site. The design of the park was introduced to the public for input and?later endorsed by Council in 2012.
Rowcliffe Park will offer an oasis of lush greenery in an urban setting. Shier believes not only the park amenities, but the health and environmental benefits of parkside living will attract homeowners to the new development.
"Anyone who has walked through a park on the first sunny day of spring has experienced the wonder and benefits of the outdoors," says Shier. "All of this is just steps from your home at Central Green." The park will give homeowners direct contact with nature, providing them with a serene environment, and physical and emotional health benefits.
Starting in the low $200,000s, Central Green condominiums will have one and two bedroom homes with several two-storey loft options. Boasting a strong connection to the park, Central Green has immediate access to an attractive and convenient pedestrian promenade that directly links the park to the community.
Mission Group will open its Discovery Centre and Display Home in February with occupancy of the first building estimated for Fall of 2017. Those interested in living at Central Green can sign up to stay informed at centralgreen.ca.
---
[downloads ids="131696, 131503"]