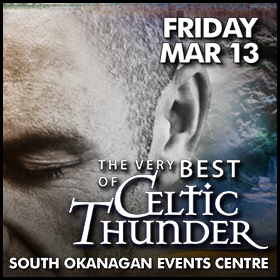 After an extremely successful show in 2013, Celtic Thunder is set to return to Penticton with their brand new show "The Very Best of Celtic Thunder Tour" on Friday, March 13. This show features an eclectic collection of the group's best-loved and most popular songs from the past seven years.
Drawing material from Celtic Thunder's nine Public Television Specials, eleven CDs and DVDs and eight US tours to date, "The Very Best of Celtic Thunder" tour aims to combine all Celtic Thunder classics, fan favourites and hit songs into a formidable stage show, married with that huge Celtic Thunder signature sound, dramatic lighting and imposing set that audiences and fans everywhere have come to expect from a Celtic Thunder show.
Celtic Thunder's principal singers, backed by the amazing eight piece Celtic Thunder band, will deliver their much loved ensemble numbers with selections including "Heartland" from Celtic Thunder -The Show, "Galway Girl" and "Seven Drunken Nights" from Voyage, "A Place in The Choir" from Heritage and "Turning Away" from Mythology. Of course, no Celtic Thunder show would be complete without a performance of their rousing anthem "Ireland's Call," which generally acts as the show's finale and never fails to bring the audience to its feet.
Celtic Thunder is the brainchild of producer Sharon Browne and since its inception in 2007 has released 11 albums, toured the U.S. and Canada, coast to coast, eight times, and Australia three times performing at over 800 shows to date. Celtic Thunder has also been hailed as BillBoard's top world music artist.
Celtic Thunder is backed by the dynamic Celtic Thunder Band and their shows are known for the use of dramatic effects of lighting and choreography, as well as a stage set resembling an ancient stone pathway suggestive of those referenced in Celtic lore.
Tickets for The Very Best of Celtic Thunder Tour are $55 and $75. Tickets go on sale to the general public on Friday, September 26 at 10:00 a.m.
Tickets can be purchased at www.ValleyFirstTix.com, by phone at 1.877.SOEC.TIX (763.2849) or in person at the Valley First Box Office (at the SOEC) and Wine Country Visitor Centre.