The Wines of British Columbia is thrilled to launch its inaugural Chef Meets BC Grape Okanagan Wine and Food Experience weekend bringing as many as 60 BC wineries and 16 top chefs from western Canada to the Okanagan Valley August 24 through 27. This weekend in the heart of our province's wine country is a multi-event series designed to celebrate the best of BC wine and food — highlighting all things grown, crushed, raised and produced in British Columbia.
The weekend including intimate dinners, seminars, demonstrations, a Sunday brunch and the grand Taste of the Okanagan event, featuring over 150 BC VQA Wines to sip and sample. Celebrity chefs and winemakers, along with wine experts and consumers, will gather throughout the vineyards and vistas of BC wine country for a celebration of the best-of-the-best that BC cuisine and winemaking offers.
"This event offers the perfect opportunity for wine and food enthusiasts to indulge their taste buds and mingle with Food Network stars, iconic BC winemakers and top chefs while enjoying the breathtaking scenery of BC wine country," says Miles Prodan, CEO and President of the BC Wine Institute.
The weekend kicks off with a spectacular First Nations Elements Dinner held at Nk'Mip Cellars, North America's first Aboriginal owned and operated winery. Featuring winemaker Justin Hall, Chief Clarence Louie of the Osoyoos Indian Band, and culinary creations from top chefs Enoch Cree Chef Shane Chartrand, Chef Matthias Fong and Nk'Mip Cellars Chef Orlin Godfrey, this four-course BC VQA Wine-paired dinner will celebrate the rich culture and heritage of Indigenous Peoples.
The Patio at Nk'Mip offers contemporary North American cuisine in a picturesque location. pic.twitter.com/mKRXXstBsq

— Nk'Mip Cellars (@nkmipcellars) July 29, 2017
Food Network stars including Chefs Mark McEwan, Connie DeSousa, Nicole Gomes, Trevor Bird, Matthew Stowe and notable chefs, Lee Humphries, John Jackson, Duncan Ly and Jinhee Lee come together for the Icons of Wines and Food Dinner (sold out) in a top chef collaboration unlike any other. Hosted at The Sonora Room restaurant at Burrowing Owl Estate Winery, renowned wine writer John Schreiner will discuss his bookIcon: Flagship Wines from British Columbia's Best Wineries, and will be joined by emcee and Master of Wine Rhys Pender to lead guests through pairings with BC's most iconic BC VQA Wine.
"I recently drove through BC wine country and was captivated by the beautiful landscape and so many great new wineries we have right in our Canadian backyard," says Chef Nicole Gomes, Winner of Top Chef Canada All-Stars 2017 and Executive Chef at Nicole Gourmet & Cluck N Cleaver in Calgary. "This event is a fabulous reason for chefs to get together and enjoy the local bounty of food and wine in a remarkable setting. I am honoured and excited to cook among all these talented chefs and winemakers."
The Taste of the Okanagan signature tasting event will take place on Saturday, August 26 at the historic See Ya Later Ranch in Okanagan Falls, where guests are invited to spend the day with celebrated star chefs and various award-winning BC winemakers. The day will include a variety of food stations prepared by the country's top chefs, masterclass wine education seminars, food and wine pairing demonstrations, over 40 BC VQA Wines to sample, and much more.
Wrapping up the weekend will be a Bubbles and Brunch at Terrafina Restaurant amongst the vines of Hester Creek Estate Winery on the Golden Mile Bench. The Terrafina by Raudz culinary team including chefs Rod Butters, Brock Bowes and Jenna Pillon will welcome guest chefs Duncan Ly, Jinhee Lee and Ryan O'Flynn to create a divine menu filled with local, in-season ingredients, perfectly paired with a variety of local BC VQA bubbles. Emcee Mijune Pak will to lead guests through this delectable brunch.
With many of British Columbia's best BC VQA Wine and top chefs from across Canada descending on the South Okanagan to celebrate local cuisine, this promises to be one delicious weekend. Create a memorable journey this summer in BC wine country.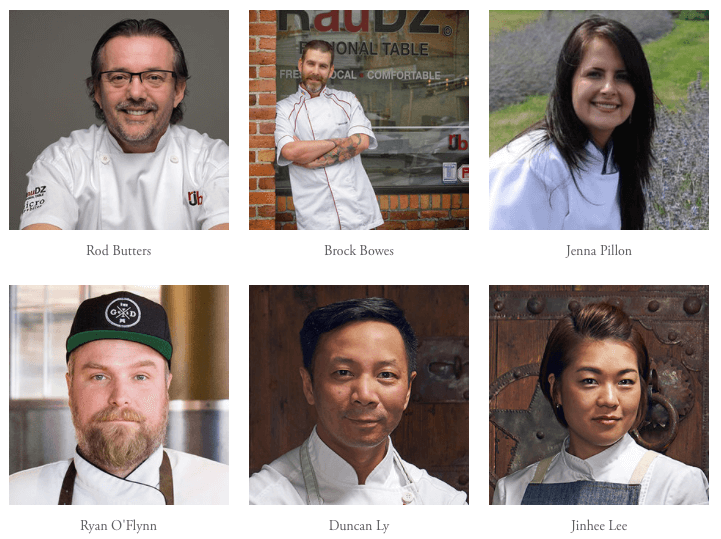 TICKETING INFORMATION: 
For event details and tickets visit chefmeetsbcgrapeokanagan.com
General and VIP tickets are available, with the VIP experience including early entry, a welcome reception, meet and greet and photo opportunities with celebrity chefs, and VIP parking.
PARTICIPATING CHEFS
Mark McEwan - Restaurateur, Retailer, Author, Chef and Head Judge on Top Chef Canada
Nicole Gomes, Nicole Gourmet & Cluck N Cleaver, Calgary - Winner of Top Chef Canada: All-Stars 2017 and Finalist Top Chef Canada Season 3
Trevor Bird, Fable Kitchen & Fable Diner, Vancouver - Finalist Top Chef Canada: All-Stars 2017 and Finalist Top Chef Canada Season 2
Connie DeSousa, Co-Chef and Co-Owner of Charcut & Charbar, Calgary - Finalist in Top Chef Season 1, and also contender in Top Chef Canada: All-Star in 2017
John Jackson, Co-Chef and Co-Owner of Charcut and Charbar in Calgary
Matthew Stowe, Joseph Richard Group, Vancouver - Winner of Top Chef Canada Season 3
Jinhee Lee, Foreign Concept, Calgary - Winner of Gold Medal Plates Canadian Championships 2017
Duncan Ly, Foreign Concept, Calgary - 2010 and 2013 Gold Medal Plates Champion, Silver & Bronze Medalist in 2008, 2009, 2012
Ryan O'Flynn, The Guild, Calgary - Winner Gold Medal Plates Canadian Championships 2016
Matthias Fong, River Café, Calgary - River Café rated No. 29 of Canada's 100 Best 2017
Wesley Young, Pidgin, Vancouver - Pidgin rated No 5 - Enroute Magazine 2014
Rod Butters, RauDZ Regional Table, Kelowna - Renowned Chef and Cookbook Author of The Okanagan Table, 2017
Brock Bowes, RauDZ Regional Table, Kelowna - 2015 Chopped Canada Winner
Shane Chartrand, River Cree Resort & Casino, Edmonton - Gold Medal Plates Bronze & Silver Medalist, Aboriginal Role Models Award, Champion Bottoms Up Chili Competition, CCFCC Chef of the Year, Chopped Canada competitor
Lee Humphries, Chef The Sonora Room at Burrowing Owl, Director of culinary operations for Vintage Hospitality's properties
Orlin Godfrey, Nk'Mip Winery Chef
Jenna Pillon, Terrafina Restaurant Chef