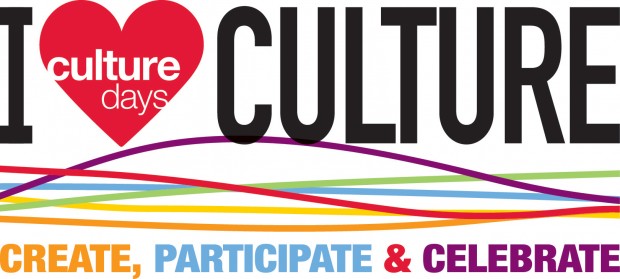 Okanagan residents will join thousands of other Canadians in celebrating this year's Culture Days, September 26 through 28.
Free, interactive activities are planned throughout the region, inviting everyone to get involved with culture, heritage, the arts and artists in their communities.
"Culture Days is an opportunity to showcase the enormous talent and creativity that exists across our province. From street art to high art, pop culture to traditional culture, Culture Days is an opportunity for people to engage and interact with art and artists in a different way," says Rob Gloor, executive director of the Alliance for Arts and Culture and chair of the BC Culture Days task force. "I encourage everyone to express their love of culture by taking in some of the fantastic free activities on offer."
The fifth annual Culture Days will be celebrated in hundreds of cities and towns across Canada. Events are taking place in more than 50 communities in British Columbia, from rural towns to major urban hubs. Many BC mayors and councils will officially proclaim Culture Days celebrations to support this growing cultural phenomenon.
Kelowna Cultural Days
The City of Kelowna, along with artists and community groups, will be joining other cities across Canada to celebrate the fifth annual Culture Days, Sept. 26 to 28. Residents are encouraged to create and celebrate culture by participating in more than 40 free activities and events.
"Culture Days is like a garden – every year artists, businesses and groups create new events that pop up and blossom for just a few short days. These events are diverse, occasionally wacky and of course free," says Sandra Kochan, Cultural Services Manager for the City of Kelowna. "It's a great excuse to broaden your cultural horizons and have some fun."
The weekend's festivities will kick off with a launch event at the Rotary Centre for the Arts atrium on Friday, Sept. 26 beginning at 5 p.m. Immediately following the launch at 6 p.m., join morning DJ Susan Knight, Councillor Colin Basran and Bell Media executive Angie Clowry as they lead a crawl through the Cultural District & Downtown, stopping to explore businesses and galleries showcasing local arts and culture along the way.
Cawston Avenue is the Culture Days hub on Saturday as the Culture Days Country Fair gets underway. Ever wondered if you'd make the grade as a worker on the packinghouse line? Try the Kelowna Museums Packinghouse Challenge – a timed race to accurately pack a 40-pound apple crate. Or join the Military Museum's Royal Stay Behinds to experience military drills like a World War I recruit. There's Apple Pie judging, entertainment, Gaudi in the Garden… and Pig on Bernard – the launch of the new Kelowna in time app!
Click on "2014 Activities" on the Culture Days homepage at culturedays.ca and enter your city or your postal code for a complete list of activities and create your own weekend schedule.
Here a sampling of other Okanagan events:
Summerland
10-10-10: The Friends of the Summerland Library offer ten presenters taking ten minutes each to showcase ten great books by local authors.
George Ryga Display: An important piece of Canadian theatre history is "The Ecstasy of Rita Joe", written by playwright and novelist George Ryga. The Summerland Museum will present a display to celebrate the author and his works.
Japanese Tea Ceremony: Watch and take part in a traditional Japanese tea ceremony at the Okanagan Regional Library.
Vernon
Family Saturday Aboriginal Dot Painting: Learn how to paint using dots, inspired by Australian aboriginal art, at the Vernon Art Gallery. All materials supplied, just come ready to paint and have fun.
Booksmack! Get Booksmacked at the Vernon and District Performing Arts Centre with a crew of wild and nerdy book lovers from the Okanagan Regional Library. Local authors and storytellers will speed review as many books and films as they can in an hour. Booklists promised.
More than 350 activities are scheduled across BC, with programming representing all disciplines and cultural interests, including visual arts, music, dance, theatre, architecture, heritage, film and video, literature, culinary arts, and new media.