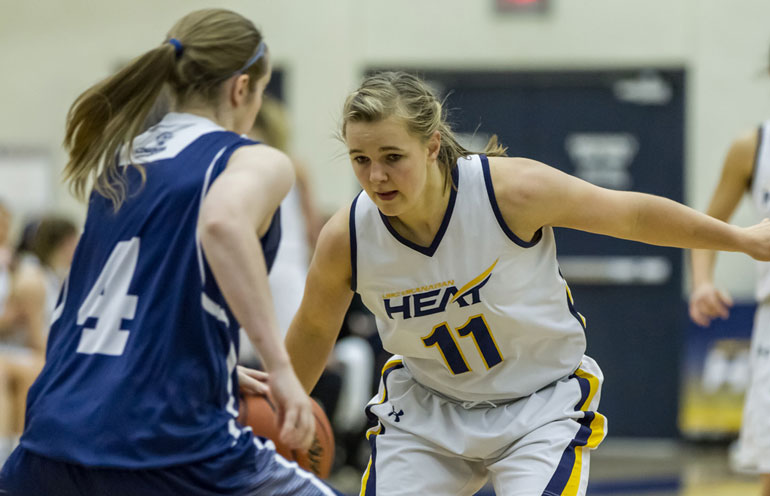 First-year UBC Okanagan student Emma Johnson knows the meaning of hard work. Watch her on the court during an Okanagan Heat women's basketball game, and it's obvious the first-year guard is determined to win.
As a nursing student who hopes to focus on pediatrics or community nursing, Johnson knows the pressure of keeping up her grades. However, being the recipient of the 2015-16 Capri Insurance Athletics Entrance Scholarship has removed some of the stress, and freed up time for Johnson to apply her skills effectively on and off the court.
"I am very thankful to Capri for this very generous award," says Johnson. "Receiving it has helped to ease the financial strain of attending university and has allowed me to focus more of my attention and energy on my studies and my sport."
The renewable Capri Insurance Athletics Entrance Scholarship is a $2,500 award presented to a first-year student athlete. Johnson will receive $2,500 per year, up to $10,000, while she maintains her status on the varsity team and keeps up her high academic scores.
The idea behind the scholarship is to take away some of the financial strain of attending university, freeing up time for academics and athletics, says Capri Insurance's Tim Miller.
"These students are genuine role models by balancing academics and athletics," says Miller. "They already demonstrate goal-setting and time-management skills, and we'd like to think that this scholarship gives them that extra edge to excel further. We are honoured to be associated with such a deserving recipient as Emma and we are excited for her future."
Johnson, who grew up in Kelowna and graduated from Immaculata Regional High School, comes from a family of basketball players. She plays guard with her older sister Olivia on the Heat women's team and knows the competing demands of being in tip-top shape, playing her best game, and keeping up the grades.
Heat women's basketball Head Coach Claire Meadows says Johnson is more than deserving of the award, and the energy and determination she shares with her teammates makes them all better at their sport.
"Emma has already been extremely impactful on our program and exemplifies a superior work ethic on the court and in the classroom," says Meadows. "I'm fortunate to have this opportunity to coach her and I look forward to watching her grow in the years to come. We are so thankful to Capri Insurance for its continued support of athletic and academic excellence at UBC Okanagan."
The Capri Insurance Athletics Entrance Scholarship is funded by an endowment established by Capri Insurance in 2009 to help top scholars, who are also gifted athletes, attend UBC's Okanagan campus.
UBC Okanagan is working together with alumni and other generous donors to raise funds in support of its talented and industrious students. The university strives to ensure students have the resources necessary for an outstanding educational experience, in which they can realize their full potential and graduate as engaged and informed global citizens, and catalysts for positive change in the world.