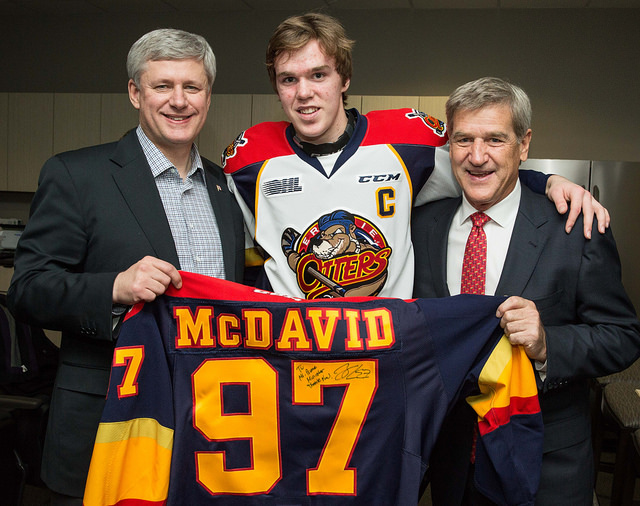 Featuring Canucks, Flames, Oilers and Jets prospects
The Vancouver Canucks will host the 2015 Young Stars Classic for the fifth year at the South Okanagan Events Centre in Penticton, running from Friday, September 11 to Monday, September 14.
The four-team tournament will feature prospects from the Canucks, Calgary Flames, Edmonton Oilers and Winnipeg Jets. Tickets for the tournament will go on sale on July 10 at 10 am.
"This is high-level hockey – fast, very skilled, hard-hitting and intense," says Event Chair and Penticton Mayor Andrew Jakubeit. "It really is a must-see event for hockey fans looking to take in NHL-calibre hockey. This signature festival generates significant economic activity for Penticton and neighbouring communities, as well as the energy and exposure that four Canadian NHL teams bring to our doorstep."
"We have great fans all over B.C. and we're excited to once again host the Young Stars Classic in beautiful Penticton, B.C.," said Trevor Linden, Canucks President of Hockey Operations. "This is an excellent event for fans in the Okanagan and gives us a platform to further develop and assess our prospects in competitive games."
Tournament ticket packages include six games for $60. This all-event package offers best value to fans with savings of 30% available until August 15. VIP ticket packages are available for $90 and $260. For information and details on what VIP packages include please visit SOEC.ca. Tickets are available online at www.valleyfirsttix.com , by phone at 1-877-763-2849, in person at the Valley First Box Office at the SOEC or Wine Country Visitor Centre.
This year the festivities will include a Canucks Town Hall Breakfast as well as Minor Hockey Day, which will include a Party on the Plaza event with games, food, music and entertainment as well as skills and development camps for B.C. minor hockey players.
For more information, please visit Canucks.com/YoungStars
Young Stars Classic Schedule*
Penticton, BC – September 11-14, 2015
GAME             TEAMS                                     DATE             TIME
Game 1      Calgary vs. Winnipeg                  Sept. 11         4:00pm
Game 2      Vancouver vs. Edmonton            Sept. 11         7:30pm
Game 3      Calgary vs. Edmonton                Sept. 12         7:30pm
Game 4      Vancouver vs. Winnipeg             Sept. 13         2:00pm
Game 5      Edmonton vs. Winnipeg             Sept. 14         11:30am
Game 6      Vancouver vs. Calgary               Sept. 14         3:30pm
*Game dates, times and opponents subject to change.