What were you doing when Canada won hockey gold in Vancouver? In a new survey, Canadians have named Sidney Crosby's Men's Hockey Gold winning goal in Vancouver as their favourite Olympic Winter Games moment. Tying for second place on the list were Joannie Rochette's inspiring figure-skating bronze and Alex Bilodeau winning Canada's first Gold Medal as a host nation in Vancouver.
The survey by Molson Canadian, an Official Supporter of the Canadian Olympic Team, found that when we see our athletes atop an Olympic Podium it brings our country together like few things can. More than a third (35%) of Canadians say they feel most proud to be Canadian when one of our athletes wins gold, compared to a quarter (25%) who feel that way when celebrating on Canada Day.
Emotional Gold
Olympic Gold Medals can make us pretty emotional too. A third of Canadians say they will likely cry or get choked up during the medal ceremony if Canada wins a Gold Medal in Sochi. More than a quarter (27%) of us will likely sing 'O Canada' in public.
"There's no feeling in the world like standing on an Olympic Podium representing your country," says Joannie Rochette. "In that moment you can feel an entire nation celebrating along with you."
Celebrating Our Olympic Victories
The survey asked Canadians how they plan on celebrating our key achievements in Sochi. By far, our favourite way (identified by six in ten Canadians) of celebrating our gold medals will be at home with family and friends. Nearly half (47%) of us say we will likely raise a celebratory beer in the process.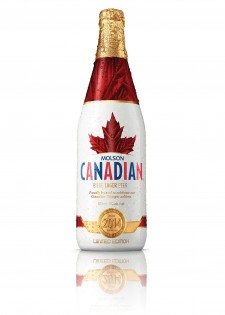 In that spirit of celebrating together Molson Canadian is making its Victory Bottles available to Canadians for the first time, so we can celebrate our Olympic Victories during the Sochi Games the same way our athletes did in Vancouver. The bottles are 625 mL replicas of the three-litre versions presented to our athletes in Vancouver as a symbol of our gratitude for their achievements. They will be available at select retailers, bars and restaurants across Canada in January and February in single bottles.
Worth Losing Sleep Over
The survey yielded additional insights into how Canadians will be coping with the time difference posed by the Sochi Games and celebrating their key moments:
More than a third (34%) of Canadian hockey fans surveyed plan to give up sleep and 7% plan to call in sick or to skip work to catch key Olympic Hockey Games in Sochi;
If Canada wins a Gold Medal in Sochi some of the famous Canadians we'd like to share a beer with to celebrate, if given the opportunity, include Sidney Crosby (31%), Stephen Harper (12%) and Ron MacLean (10%).
About the Survey
From January 7 to January 9, 2014 an online survey was conducted among a sample of 1,500 Canadian adults (ages 18-64) who are also Angus Reid Forum panel members. The margin of error — which measures sampling variability — is +/-3.1 per cent, 19 times out of 20. The sample was balanced by region according to the most recent census data.