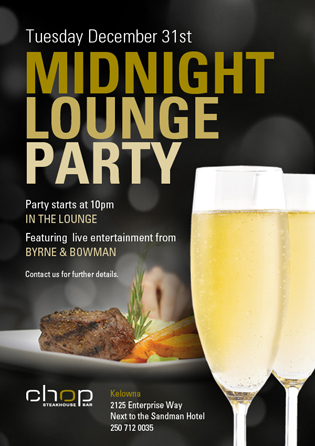 Taking the stage at Kelowna's Chop Steakhouse is the musical quartet Byrne & Bowman to ring in the New Year at the Midnight Lounge Party.
Chop brings together all the elements that discerning guests love about the culinary experience: extraordinary food, a notable wine list, quality spirits and service and surroundings that pamper, all with the comfort of a casual dining experience.
Discerning music lovers will be in for a treat as pianist Neville Bowmen and acoustic guitarist John Paul Byrne add to the mix  jazz guitarist Loni Moger and vocalist Sammi Morelli to make New Year's Eve 2014 a memorable evening.
Byrne & Bowman offer outstanding musical talent combined with an incredible range of vocals, including the fresh, youthful talent of Morelli. Okanagan Life publisher Byrne performs in Kelowna and area and is known for his original scores from Ink! The Musical. Bowman is well known throughout the B.C. interior as an accompanist and arranger for other artists, as well as his work in theatre. Moger is most known for his outstanding guitar.
From Les Miserables to Ink! the Musical, the evening performance will feature songs from musicals and favoured pop, rock and ballad selections.
The exclusive New Year's Eve feature menu offers a delectable selection of entrées, including Prime Rib, Halibut en Papillote and Chop's famous Steak and Crab. The menu is paired exquisitely with wines hand-picked by the sommelier and tantalizing desserts to cap off this perfect meal.
Byrne & Bowman take the stage at 9 pm. Tickets are $20.
Chop.ca
Reserve a Table