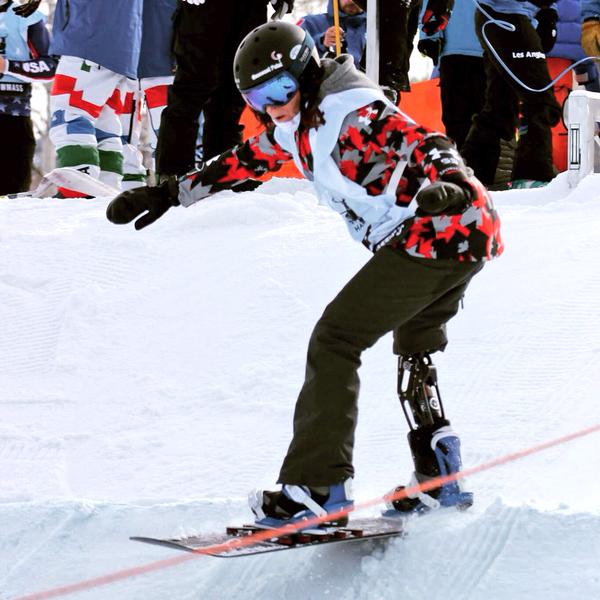 New Zealand's Carl Murphy took his first World Cup win of the season at Big White Mountain Resort on Monday  in the last races ahead of the 2015 IPC Para-Snowboard World Championships in La Molina, Spain. Murphy beat Finland's Matti Suur-Hamari and the USA's Sochi 2014 bronze medallist Keith Gabel in the men's banked slalom SB-LL2.
A team of four Canadian para-snowboarders competed in the banked slalom and snowboard-cross competitions on home snow in Big White: John Leslie, Alex Massie, Michelle Salt and Daniel Shoemaker.
Salt, of Calgary, took third place in the the women's SB-LL1 behind France's Cecile Hernandez-Cervellon who collecting her fifth World Cup podium after winning snowboard-cross head-to-head on Saturday. Nicole Roundy from the US was second. Salt was a member of Canada's first Paralympic Games snowboard team in 2014 who lost her right leg above the knee in a near-fatal motorcycle crash in 2011. It was her first world cup podium finish.
My first World Cup podium. 3rd place in today's banked slalom. So awesome!! @ClassroomChamps pic.twitter.com/V5bMMmIU9f

— Michelle Salt (@MichelleSaltCGY) January 20, 2015
"From a technical standpoint, Big White is built for snowboarding, the terrain is wide open with perfect pitch and good visibility," says Mark Fawcett, Head Coach, Canadian Para-Snowboard Team. "Big White is always very accommodating and efficient at building great courses."
In the women's banked slalom (LL2) the Netherlands' Bibian Mentel-Spee (2:29.69) collect maximum points once again. Australia's Joany Badenhorst (3:03.12) continued her excellent run of form in second, taking her third podium of the season.
In the men's upper-limb impairment race, Austria's Patrick Mayrhofer (2:26.71) beat British rival Ben Moore (2:27.22). Italy's Manuel Pozzerle (2:34.50) continued his podium run in third.
The men's SB-LL1 was won by the Netherlands' Chris Vos (2:34.91), yet again showing his potential in the banked slalom after finishing in the top three in Landgraaf.
Giuseppe Communale (2:52.95) won Italy's second podium of the day and Denmark's Daniel Jorgensen (3:05.92), a track and field European and Paralympic Games medallist, sealed his first podium of the season in third.
"So happy to have the Para team back and we are thrilled and honoured to host this World Cup at Big White Ski Resort. Go Canada Go!" said Michael J. Ballingall, Senior Vice President, Big White Ski Resort.
SB-LL1 category is for those with a significant impairment in one leg or a significant combined impairment in both legs, while a SB-LL2 classification is for athletes with an impairment in one or two legs or with less activity limitation. SB-UL is for athletes with a physical impairment affecting one or both arms who compete standing.