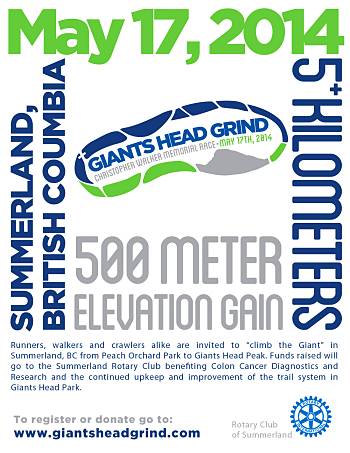 More than 100 racers have already signed up for the inaugural Giant's Head Grind "beach to peak" race in Summerland on May 17, 2014.
Starting at the shores of Okanagan Lake, walkers, runners and racers will scale Summerland's volcanic landmark, a distance of more than five kilometres, and a 500-metre elevation gain.
This year's race will be capped at 300 participants, and race organizers say they are thrilled with the response they are receiving.
"It's fantastic to see so many people eager and excited to take on a new challenge," says organizer Ellen Walker-Matthews.  "Registrations are coming in not just from Summerland, but from other communities in the Okanagan and even Vancouver and Calgary."
Walker-Matthews is spearheading the event with her husband Tom Matthews and the Summerland Rotary Club. The event's full title - the Giant's Head Grind Christopher Walker Memorial Race – is in honour of Ellen and Tom's son, who passed away from colon cancer in 2013.
Proceeds of the race will go to provide funding for the BC Cancer Foundation, targeting colon cancer research and to assist Summerland Rotary's Club raise funds for the upkeeps and improvement of the trail system in Giant's Head Park.
Registration includes all race-related activities including complimentary breakfast and pre-race yoga, as well as post-race food, pre-awards BBQ and t-shirt. Non-racers can still buy tickets to the BBQ and enjoy the awards ceremony.
All details can be found at www.giantsheadgrind.com.