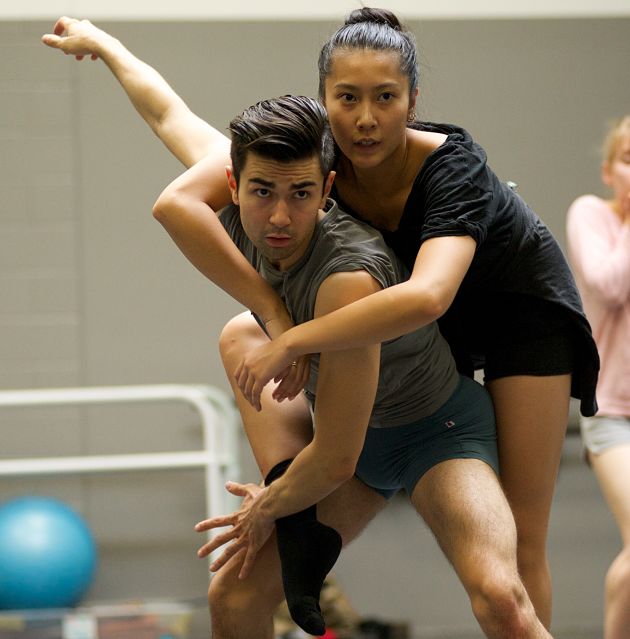 With new Artistic Director and CEO Simone Orlando at the helm, Ballet Kelowna is set to leap into their performance season with a special evening called Launch on Friday, November 7.
"Launch is a special one-hour informal performance at the Mary Irwin Theatre at the Rotary Centre for the Arts," said Orlando, "and attendees will be treated to an intimate sneak preview of some of the work from the upcoming season."
Shawn Hounsell, the renowned choreographer who created Wonderland for Royal Winnipeg Ballet, is currently in Kelowna creating a new piece for Ballet Kelowna. Audience members at Launch will have the opportunity to see excerpts from his new work and hear Hounsell speak about its creation.
In addition to sneak-peeks from upcoming shows, Orlando will give audiences an up-close-and-personal display of the choreographic process. "We want to share how we create new movement," said Orlando, "and the audience will witness a new piece come together right before their eyes."
At Launch, attendees will have an opportunity to meet Orlando, Hounsell, and the Ballet Kelowna dancers at a post-show meet-and-greet in the lobby.
This year, Ballet Kelowna welcomes back dancers Desiree Bortolussi (Kelowna), Jedidiah Duifhuis (Vancouver), Julie Pham (Prince Rupert) and Kurt Werner (Scarborough, ON). New to Ballet Kelowna this year are dancers Mark Dennis (Prince George), Oksana Wengryniuk (Vancouver), as well as trainee Bailey Madill (Kamloops). Mark Dennis is a graduate of Canada's National Ballet School and danced with National Ballet of Canada, Alberta Ballet, West Australian Ballet and Northern Ballet (UK) prior to joining Ballet Kelowna. Oksana is a graduate of Arts Umbrella Dance program and has worked with some of today's top choreographers including James Kudelka and Crystal Pite.
Launch takes place November 7 at 7 p.m. at the Mary Irwin Theatre, Rotary Centre for the Arts (421 Cawston Ave., Kelowna). Admission is by donation with a suggested donation of $15.
Ballet Kelowna will also be offering the first in a series of Master Classes and Choreographic Workshops on November 12. Designed for advanced dance students and dance teachers, Simone Orlando will teach a master class from 8:30 a.m. to 10 a.m. followed by a choreographic workshop with Shawn Hounsell from 10:15 a.m. to 12:15 p.m. Registration is limited and the cost is $25 for the master class and $35 for the choreographic workshop or $55 for both. For more information and to register, email info@balletkelowna.ca or phone 250-762-6105.
Ballet Kelowna's 2014/15 Subscription Series is on sale until December 11. Subscribe by Friday, October 31 to win a $500 gift card from Orchard Park Shopping Centre. Visit balletkelowna.ca or call 250-862-2867 to purchase tickets.
Top photo: Ballet Kelowna dancers Mark Dennis and Julie Pham in creation with choreographer Shawn Hounsell. Photo by Glenna Turnbull.