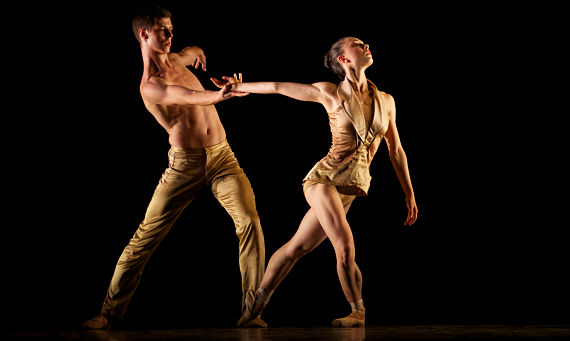 Like singer-songwriter Joni Mitchell tells us, 'you don't know what you've got til it's gone' and when it began to look like Ballet Kelowna was going to have to close their doors forever, it brought forth a whole new drive and passionate outcry from the public. They made it quite clear; they did not want to lose this gem of a dance company.
And so, one year later, Ballet Kelowna's dancers are back on their toes, membership has almost tripled and the books are back in the black as the company gets ready to wow audiences from Vernon to Summerland, and Salmon Arm to Golden, with stops in Revelstoke, Trail, Kamloops, Chilliwack and Maple Ridge. The tour will culminate in a grand finale at the Kelowna Community Theatre on Friday, April 25.
The 2014 Ballet Kelowna tour will culminate in a grand finale at the Kelowna Community Theatre on Friday, April 25. Catch a preview of  at the Orchard Park Shopping Centre on April 5.
The upcoming tour, called Innovation, will feature the re-mounting of Simone Orlando's hauntingly beautiful ballet, I Remember You, along with the joyously uplifting Exsultate, Jubilate, choreographed by Ballet Kelowna's artistic director David LaHay. It will also include the wildly exciting pas de deux from Brian Macdonald's ballet Tam Ti Delam as well as the world premiere of a new ballet by LaHay, set to an original score written by the Okanagan's own Neville Bowman. The finishing touch to the show is a dash of humour with the ballet #weddingdayproblems, choreographed by former Ballet Kelowna dancer Raelynn Heppell to the Etta James classic song, All I Could Do is Cry. It was deemed an instant favourite when it premiered last spring and Heppell has embellished it even further for this show.
LaHay moved to Kelowna in 2002 to start Ballet Kelowna upon the urging of Canadian School of Ballet's former directors Lori Larson and Melville Brown. The two women were well acquainted with LaHay from his work at the Banff Centre's summer dance intensive program and thought he'd be the perfect match for their vision of an "innoclassical" company that would include the beauty of classical ballet with the excitement of contemporary choreography.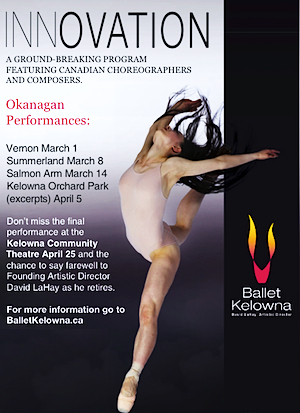 Now, a dozen years later, Ballet Kelowna has performed 54 different ballets, commissioned 11 new ballets, launched the careers of 39 different dancers and contracted composers to create three original scores. The dancers have brought the joy of professional ballet to 62 different communities and entertained 150,000 audience members.
LaHay has announced his plans to retire at the end of this season, so the search is currently underway for a new artistic director. Although his feet do not look terribly large, David will leave very big shoes to fill when he steps down from the creative helm this summer.
With a new motto, Excellence in Motion, Ballet Kelowna is ready to jump into its next chapter. "Together, we've certainly done what many people thought was impossible," says board president Deborah Ward of the resurrection of the company.
"It's taken a tremendous amount of hard work, and there's still much to be done, but we're now at a point where there's real confidence about the future. A huge "thank you" is due to everyone who came forward, and is still coming forward, to help sustain us," she says.
Purchase tickets for the April 25 performance. 
For more information on Ballet Kelowna, please visit their website at www.BalletKelowna.ca

www.facebook.com/BalletKelowna


twitter.com/balletkelowna
This advertisement was funded by Okanagan Life.