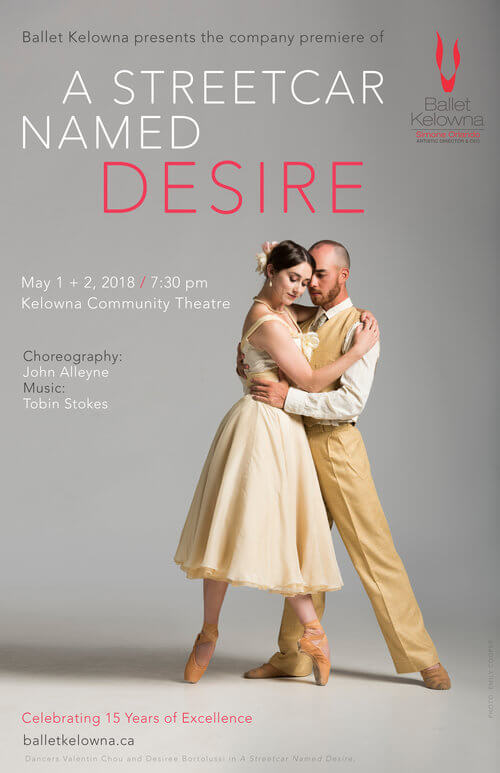 Simone Orlando, Ballet Kelowna's Artistic Director & CEO, today announced the 2017/18 season, which celebrates the company's 15th anniversary.
"In celebration of the company's 15th anniversary season, we are presenting three Ballet Kelowna productions at the Kelowna Community Theatre," said Orlando. "With four new signature works and the company premiere of the full-length ballet A Streetcar Named Desire entering our repertoire, this promises to be our most exciting and ambitious season yet."
In addition to the the full-length ballet A Streetcar Named Desireby John Alleyne, highlights of the season include world premieres by renowned Canadian choreographers Gioconda Barbuto, Alysa Pires, Simone Orlando, and Wen Wei Wang and an add-on performance of The Nutcracker presented by The Canadian School of Ballet.
The anniversary celebrations begin with Acts of Remembrance, November 10 + 11, 2017, a mixed program featuring a new commemorative work by Simone Orlando, a world premiere by award-winning choreographer Wen Wei Wang, and the company premiere of L'Etiquette by Joe Laughlin.
Ballet Kelowna presents Elles: Extraordinary Dance Created by Women, February 2, 2018, a mixed program of dance devoted to four talented female choreographers.  With world premieres by celebrated Canadian choreographers Alysa Pires and Gioconda Barbuto, plus Folie à Cinq by Heather Myers and Glas by Gabrielle Lamb, this program will deliver the very best of contemporary ballet from the perspective of women.
The season closes with John Alleyne's A Streetcar Named Desire, May 1 + 2, 2018, the first full-length ballet presented by Ballet Kelowna.  Adapted from Tennessee Williams' 1947 Pulitzer Prize winning drama, Alleyne's Streetcarcombines compelling dance with superb acting, lavish costumes, and an original jazz score by BC-based composer Tobin Stokes.
The 2017/18 Season will also see the return of Launch—a special, one-hour informal showing, presented by Ballet Kelowna on October 5, 2017 at the Mary Irwin Theatre in the Rotary Centre for the Arts in Kelowna. Launch will preview new work from Ballet Kelowna's 2017/18 Season and provide a behind-the-scenes glimpse into the Company's daily training and rehearsals, as well as the choreographic process. Hosted by Artistic Direct and CEO Simone Orlando, Launch invites both new and long-time Company supporters to interact with the dancers and visiting choreographers.
Season tickets are on sale now and can be purchased online at balletkelowna.ca, by phone at 250.862.2867 or in person at Kelowna Tickets in Orchard Park Shopping Centre, 2271 Harvey Avenue.
Photo: Dancers Valentin Chou and Desiree Borrolusi
Add-On Performance:The Nutcracker
Experience the magic and wonder of the Christmas season with the treasured holiday classic, The Nutcracker, December 8 to 10, 2017. The Canadian School of Ballet, with guest artists from Ballet Kelowna, will capture the imagination of the entire family transporting them on an unforgettable journey with Clara, her Nutcracker Prince, and the Sugar Plum Fairy. Ballet Kelowna subscribers enjoy their same seats to The Nutcracker and first pick on up to four additional tickets.
Ballet Kelowna's 2017/18 Season
Acts of Remembrance
Choreography: Joe Laughlin, Simone Orlando, Wen Wei Wang
Friday, November 10, 2017 @ 7:30 PM
Saturday, November 11, 2017 @ 7:30 PM
Elles: Extraordinary Dance Created by Women
Choreography: Gioconda Barbuto, Alysa Pires, Gabrielle Lamb, Heather Myers
Friday, February 2, 2018 @ 7:30 PM
A Streetcar Named Desire
Choreography: John Alleyne  Music: Tobin Stokes
Tuesday, May 1, 2018 @ 7:30 PM
Wednesday, May 2, 2018 @ 7:30 PM
The Nutcracker
Presented by The Canadian School of Ballet with guest artists from Ballet Kelowna
Staging by Carley Bailey and Regeanna Stubel with additional choreography by Simone Orlando
Music: Pyotr Illyich Tchaikovsky
December 8 - 10 2017