Five top Kelowna businesses are about to approach the den. Over the next two weeks, finalists in  the province-wide Small Business BC Awards present a Dragons' Den-style pitch, convincing a panel of judges why they should be named a BC best business.
This year was the biggest year yet for the competition with over 460 nominations received from 70 communities across the province, including 25 nominations from Kelowna.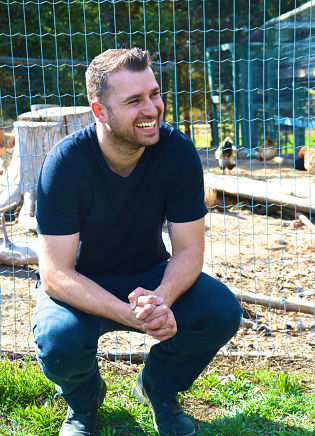 The Top 5 finalists from Kelowna include:
The Greenery Garden Centre – Best Online Marketer
CoreHealth Technologies – Best Company and Best Workplace
Float Space – Best Emerging Entrepreneur
Nourish – Best Concept
Soil Mate – Best Concept
Photo: Soil Mate Founder Matt Gomez
"Small Business BC is proud to acknowledge the exceptionally talented, creative and passionate entrepreneurs in our province, says George Hunter, CEO, Small Business BC. "These awards provide a platform to showcase the impact that small businesses are having on their communities and the contributions they're making to the economy and to celebrate the dedicated entrepreneurs who built them."
Winners will be announced on February 26, 2015 at the Small Business BC Awards Ceremony at the Pan Pacific Hotel in Vancouver, where 500 small business owners, government representatives and other key business influencers will enjoy an evening that recognizes the amazing entrepreneurs in the province.
The winners of the first-ever Best Emerging Entrepreneur Award and Best Immigrant Entrepreneur Award will also be announced at this year's ceremony.
"As small businesses are an integral part of British Columbia's economy and I want to congratulate the hard-working, resourceful and skilled candidates in each category and wish them all the best in the final rounds, " says Bill Adams, VP, Western and Pacific, Insurance Bureau of Canada, the competition's title sponsor. "Thank you all for your dedicated efforts to better our communities and province."
Small Business BC provides entrepreneurs provides a wide range of products, services, education and resources for entrepreneur to build a solid foundation for their business.
More information on the Small Business BC Awards can be found at www.sbbcawards.ca