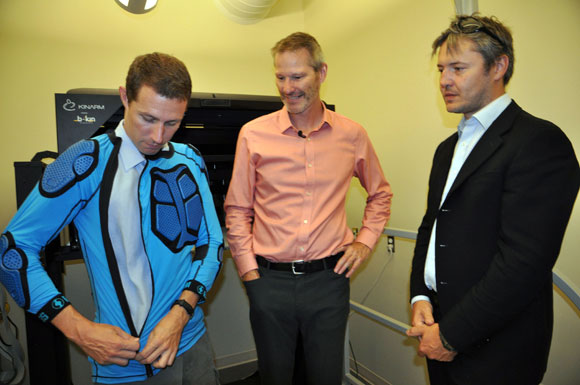 Imperial College London researchers visit partners at UBC Okanagan
A partnership between UBC Okanagan and  Imperial College London (UK) is focused on development of a new helmet that could one day reduce sports-related concussions.
Professors Peter Childs and Dan Plant, visiting from Imperial College, spent the week at UBC's Okanagan campus, meeting with researchers and sharing ideas and designs that can change lives.
Plant is one of the developers of Armourgel—a light, flexible material that absorbs shock on impact and can reduce physical harm from falls or other kinds of contact. While at UBC, Plant met with Prof. Paul van Donkelaar, director of UBC's School of Health and Exercise Sciences, and demonstrated several samples of Armourgel. The applications of this novel new material are far-reaching — from protective bike gear, to clothing for elderly people prone to falls, to more effective helmets.
That's where UBC Okanagan's new Survive and Thrive Applied Research (STAR) facility comes in.
STAR (star.ubc.ca) is a hub for innovative research projects that focus on human performance and protection by bringing together expertise from across UBC, industry and other universities. In one of the first major collaborations through STAR, van Donkelaar is working with Armourgel and Kelowna's Helios Global Technologies to develop a helmet liner that could lessen the impact of blows to the head, specifically in contact sports. His research examines the damage sustained by young athletes who have been concussed while playing sports, especially those who have had more than one concussion.
Part of this work examines how concussions can affect blood flow to the brain, how this impacts neurocognitive function, and how to determine when young athletes are physically ready to begin playing a contact sport again.
"Sport-related concussion is becoming a major concern for athletes, parents, coaches, and sport associations," says van Donkelaar. "Finding ways to improve the safety of contact sports is one key approach to mitigating the risks of concussion. The development of Armourgel helmets could be a step in the right direction to making contact sports safer."
In van Donkelaar's lab, Plant presented several variations of the Armourgel product, and explained how it can be manufactured in different thicknesses, and can be applied in many ways. The goal now is to work on a prototype helmet liner that may one day become standard safety equipment for those who play contact sports.
During their visit, Peter Childs, Professor of Engineering Design at Imperial College London, spoke about the benefits of a partnership between UBC and Imperial. The goal is to expand the relationship and provide new opportunities for students from both universities.
This spring, UBC Deputy Vice-Chancellor and Okanagan Campus Principal Deborah Buszard signed an agreement with Imperial College as part of UBC's plan to foster deeper relationships that can lead to innovative research
"The visit by Imperial College London opens the door to exciting new opportunities for this campus and our partners in the community," says Buszard. "It is wonderful to be hosting scholars of the calibre of Peter Childs and Dan Plant. I look forward to seeing the results of the joint projects already underway with UBC researchers, as well as other opportunities for collaboration discussed during this week's visit."
While in the Okanagan, the visitors from Imperial met with representatives from local businesses and industries, community leaders, and representatives from several faculties at UBC including the Faculty of Management, Applied Science, and the Faculty of Health and Social Development.
Above:  PhD student Colin Wallace tries on a dirt biking shirt equipped with Armourgel protective covering, while UBC's Paul van Donkelaar and Imperial College's Dan Plant look on. Van Donkelaar, director of UBC's School of Health and Exercise Sciences, studies concussions and is interested in Armourgel's unique properties for use in sports helmets.