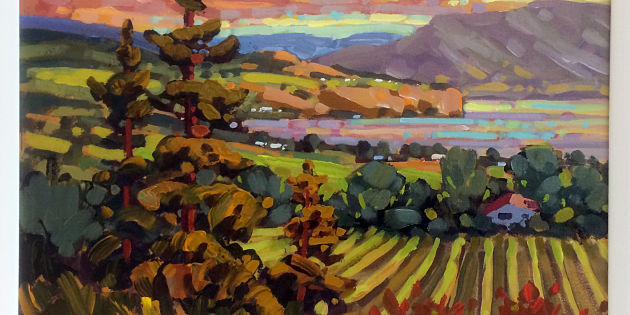 As of this week, you can get a sneak peek at over thirty amazing works of art that will be available for purchase at the upcoming Kelowna Art Gallery's Appetite for Art Fundraiser on April 9. An online gallery of the works can be seen on the fundraiser event page on kelownaartgallery.com – and new this year is the ability for people to bid online leading up to the fundraiser.
"We couldn't be more pleased with the fine works donated for this year's fundraiser," says Kelowna Art Gallery Executive Director, Nataley Nagy. "The generosity and support from the art community has been tremendous. We are also excited to give everyone the opportunity to bid on a work they like through our new online auction."
Of the thirty works of art, twenty have been created by local artists especially for the event using wooden shadow boxes. The works of art range vastly – everything from Okanagan landscapes to abstract pieces that make use of bold bright colours. There is also a wide variety of media, including, oil and acrylic paint, textiles, mixed media, glass, steel, ceramic, and photography.
Participating artists include: Doug Alcock, Lynden Beesley, Amy Burkard, Connor Charlesworth, Rod Charlesworth, Jessie Dunlop, Ken Gillespie, Clea Haugo, Erica Hawkes, Jessica Hedrick, Fern Helfand, Michael Hermesh, Byron Johnstad, Jim Kalnin, Danielle Krysa, Jan Little, Wanda Lock, Hanss Lujan, Jolene Mackie, Debra Martin, Sue McCarrell, Joanne McKechnie, Carol Munro, Fiona Neal, Joanne Onrait, Carney Oudendag, Kyle L. Poirier, Kristine Sloan, Mary Smith McCulloch, Leanne Spanza, Johann Wessels, Meghan Wise, Gale Woodhouse, and Nicole Young.
The concept behind Appetite for Art is to combine a celebration of the best in local cuisine with a selection of art that guests can purchase and take home – all raising dollars to support children's and educational programming at the Gallery.
The online auction will close on Wednesday, April 6, 2016, however attendees at the gala fundraiser on Saturday evening, April 9, 2016, will have a final opportunity to place bids live at the event between 7 and 9:30 pm.
Tickets for the Appetite for Art Fundraiser are still available at $120 per person, or four for $420. They can be purchased directly from the Gallery, by calling 250-762-2226, or online at www.kelownaartgallery.com.
The Kelowna Art Gallery would like to acknowledge the generous contributions by presenting sponsor Walker Real Estate and supporting sponsors, Farris, Vaughn, Wills & Murphy LLP, RBC Wealth Management, Factoring Solutions, Debbie and Leo Robert, and KPMG. Media sponsors for the fundraiser are CBC Kelowna, KelownaNow.com, and The Daily Courier.