Anthony's Subaru founders support next generation of auto technicians
A local family that includes two generations of Okanagan College alumni has made a major donation to assist the next generation of automotive technicians at B.C.'s second largest trades training institution. Tony and Franca Lunelli, founders of Anthony's Subaru, have pledged $50,000 to the Bright Horizons - Building for Skills fundraising campaign.
"Skilled technicians are always in demand in our industry," says Franca Lunelli. "Tony and I are firm believers in the importance of education, and so we're delighted to support the College and the automotive apprentices of the future."
"This generous gift to Okanagan College and its students is all the more meaningful given the Lunelli family's long history with the College," says Kathy Butler, Executive Director of the Okanagan College Foundation. "We are so grateful for their support and appreciate the wonderful connection they have built as alumni, mentors and donors."
Since moving to the Okanagan in 1970 from Sault Ste. Marie, Ontario, the automotive business has been a constant in the lives of the Lunellis.
After beginning his career as a technician and working in sales for more than a decade, Tony Lunelli opened 5th Avenue Auto in West Kelowna in 1981. He acquired the property for the original Anthony's Subaru dealership in 1988 and began selling Subarus in 1995; a second Subaru dealership followed in Penticton in 1998. The business remains a family enterprise. New Anthony's Subaru dealerships launched in Penticton in 2000 and Kelowna in 2014, operated by the Lunelli's children, Christina Bailey and Anthony Lunelli Jr., both Okanagan College alumni.
"Our family's connection to the College began with my dad who upgraded his education by taking business courses at the College in the early 1980s, and the connection grew from there," says Bailey, who studied Arts at Okanagan College in 1994 before completing her degree at UBC. Her brother Anthony completed his Bachelor of Business Administration at the College in 2007.
"We've hired apprentices from the College for decades," says Anthony. "It has been wonderful to witness the growth of trades at the College over the years, and now to be a part of the next chapter is very exciting and humbling."
A recent labour market outlook identified Automotive Service Technicians (AST) as one of the top three trades sector occupations in the Okanagan. Demand is expected to remain strong, with call for more than new 1,100 technicians provincially between now and 2024. Currently, more than 200 FTE (full-time equivalent) automotive students train at the College per year.
An expanded and rejuvenated automotive shop opened to students last year as part of the $33-million renovation and expansion of its trades facilities that will wrap up next spring with the opening of the new complex. Gifts like the Lunelli's will help the College continue to upgrade shop and classroom spaces. The new complex will accommodate more than 2,600 students and will provide the College's trades students with new labs, classrooms, study and food service space.
The fundraising campaign's goal is $7 million — including $2 million for new programming and student support — to top up the Provincial Government's $28-million investment in the project.
More information about the campaign's current needs and opportunities to support students is available at www.okanagan.bc.ca/campaign.
Photo: Anthony Lunelli, Franca Lunelli and Christina Bailey in front of the new Trades Training Complex under construction at Okanagan College's Kelowna campus.
---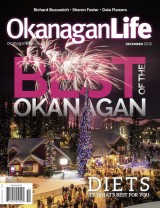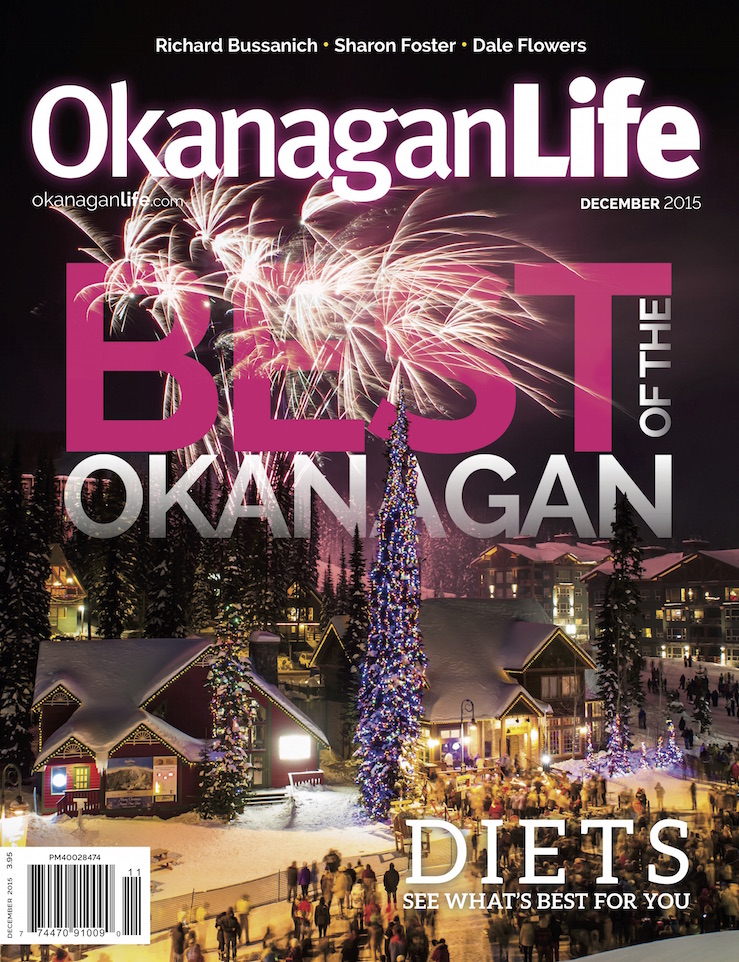 Our Dec issue celebrates the 2015 Best of the Okanagan award winners in the North, Central and South Okanagan. Wine writer Michael Botner sips from some Sake and we're in the kitchen with…