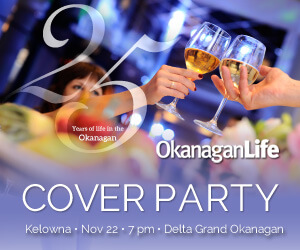 The Okanagan Life Cover Party silver anniversary gala is set for Friday, November 22 at the Delta Grand Okanagan. Marking its 25th year milestone in publishing, Okanagan Life will host the evening, which will showcase the Best of the Okanagan and help raise funds for Ballet Kelowna.
"Over the years, we've taken great effort to support arts and cultural groups in communities across the Valley and our anniversary is no exception," says publisher John Paul Byrne. "Our little mag first came off the press in 1988 and on that first cover was Robert Dow Reid, creator of the Spirit of the Sails. Cover icons like Reid, golf pro A.J. Eathorne, broadcaster Mike Roberts and Kelowna Mayor Walter Gray will join other community trailblazers at this evening of fine food, music and celebration."
The gala and fundraiser will start at 7 p.m. with a celebratory toast of Cipes Sparkling Wine from Summerhill Pyramid Winery and a dance exhibition from Ballet Kelowna.
Guest will then visit live action food stations as the Delta Grand Okanagan's Executive Chef Stuart Klassen and his culinary team showcases the finest of locally sourced ingredients.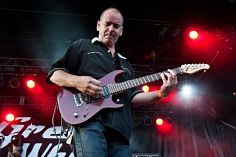 Taking to the concert stage will be live performances from local artists, including performances by Jimmy LeGuilloux, Jim Rhindress and John Paul Byrne, followed by the dance band Easy Fix.
"The members of the Board are absolutely delighted that so many in the community have stepped forward in support of this unique ballet company, allowing us to offering a 2013/14 season," says Ballet Kelowna President Deborah Ward. "We're thrilled by the support of Okanagan Life Magazine and excited to be part of their silver anniversary celebration."
Since 2002, Ballet Kelowna has captivated audiences with a mosaic of classical and contemporary dance. Performances are intimate and carefully crafted, captivating audiences through the movement of dance. Their season opens on Friday, December 6 with The Nutcracker, an enduring classic that has been delighting Okanagan audiences for over twenty years.
Tickets are $88 for the anniversary gala. Get Tickets.