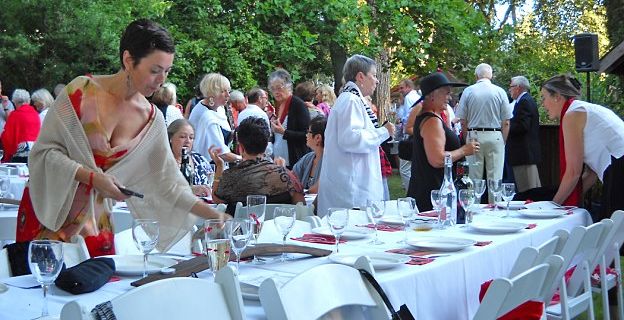 An elegant Italian evening and art event with an Okanagan twist
A Splash of Red, the Caetani Centre's popular annual fundraiser, is back for a third time and set to take place August 21.
Over the past two years, the Splash of Red committee has raised more than $25,000 to support the Caetani Cultural Centre's goal of becoming an established cultural centre for both local and international artists.
This year's Splash of Red marks the 20th Anniversary of Sveva bequeathing the property to the community. The event will being at 5:30 p.m. with an aperitif reception and art viewing, followed by a three course Italian dinner served family style under the stars complete with wine and pairings. A live art auction featuring spectacular original works from twenty renowned artists and the drawing of door prizes will bring the evening to a close.
Suggested attire is one of casual elegance with the colours black, white, and red recommended.
Tickets, priced at $100 each, are being sold at the Bean Scene Coffee House and at the Caetani Cultural Centre (cheque or cash only).
The Caetani Cultural Centre (C3) provides scheduled events throughout the year for the public to access the gardens, engage with member artists and enjoy the facilities (often at no cost). Located in the former home of Sveva Ersilia Caetani, built 1896, the Centre has five artist studios and a shared artist workspace onsite that are in use on a year round basis by local artists and artists participating the C3 AiR program.
With the assistance of the Regional District of the North Okanagan and many volunteers, the 1.5 acres of gardens at C3 are beautifully maintained and provide a peaceful and inspiring setting for artists to create and share their work with the community.