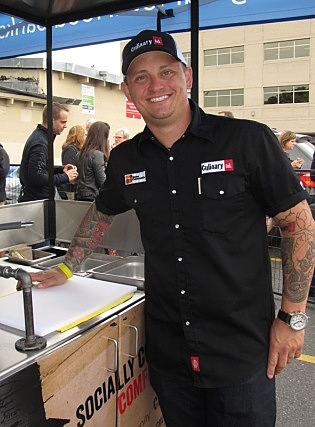 Hungry for business, Okanagan College alumnus Donnie Ungaro credits making calculated business decisions, following his passion, and serendipitous timing as a few of the keys to his recent success at Venture Okanagan.
Ungaro took top spot at the local investors forum held last week at Okanagan College's Kelowna campus. Presenting in front of more than 90 spectators and business leaders, Ungaro successfully pitched his business Culinary Ink—a socially conscious comfort food business powered by bicycle—to a panel of Angel investors. He was rewarded with the grand prize of $5,000 from title sponsor Grant Thornton LLP to put towards the developing business.
"The win couldn't have come at a better time," says Ungaro. "I recently decided to commit my time completely to the launch and growth of this business. It's a validation of my decisions and of the company's potential."
A graduate of Okanagan College's School of Business, and also recipient of the Young Alumni Award in 2014, Ungaro acknowledges that the Bachelor of Business Administration degree he earned in 2003 provided a sound foundation.
"It goes beyond the tangible degree, it's the people you meet that is the greatest value. You maybe don't realize this as a student, but I can attest that the community at the College was instrumental in bringing Culinary Ink to life," says Ungaro, adding that beyond the mentorship from instructors, and networking opportunities, he is currently interviewing College alumni to potentially join the company.
As an entrepreneur, Ungaro calls the Venture Okanagan prize a nice buffer to help launch his company, though there's no slowing down now. He's already appropriated the funds, that includes having booked a booth at the upcoming Canadian College and University Food Services Association trade show (to be held in June in Kelowna).
"I'm hoping having a presence there could help lock in additional contracts to be at colleges across Canada and operate the company on a franchise model."
Beginning April 25 two food bikes located at the College's Kelowna campus will serve up dishes including taco al pastor, served in a "taco cone" made of naan, and chipotle mac 'n' cheese with pulled pork. Ungaro says they are dishes you can feel good about eating since 10 per cent of all sales will be donated to support three local charities: the Kelowna Food Bank, Metro Community and Soles4Souls.
"Donnie exemplifies what we see in many of our graduates at the College. They are bold, smart, innovative and creative," said Jim Hamilton, President of Okanagan College. "The Venture Okanagan competition was very steep. It's an exceptionally proud moment to have one of our alumni recognized by the business community at an event held right here on our campus."
In addition to Culinary Ink, other pitches included Motivation Engine, VO2 Master, Visland Media, Illuminous Laser System, and X Co. Venture Okanagan is a private sector entity investors' forum that is organized collectively by the Okanagan Angel Investor Network and Enactus Okanagan College. It is made possible with support from title sponsors Grant Thornton and the Business Development Bank of Canada.
"The entrepreneurial spirit in the Okanagan is alive and well," noted Steven Watson, Okanagan College business professor and Venture Okanagan Chair. "Venture Okanagan brings the community together – entrepreneurs, investors, mentors, and students. There definitely is an appetite by investors to hear these business ideas."
To the budding entrepreneurs for which the Okanagan is quickly becoming known for, Ungaro shares his advice: "passion, education, experience and purpose. The success is in putting your heart into it."