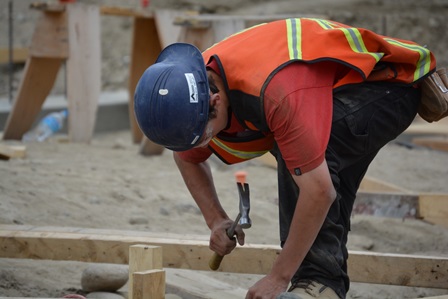 LNG Canada has announced $1 million in private funding to support employers sponsoring apprentices and foundation (pre-apprentice) trades students in programs from carpentry to welding.
The LNG Canada Trades Training Fund, which is administered by the BC Construction Association, will support training in all construction trades, although priority may be given to 15 high demand trades in B.C. identified by LNG Canada. Ten of these trades are currently offered at Okanagan College, B.C.'s second largest trades training institution.
Along with tuition, the funding can be applied to student fees, textbooks, software and other required materials, and examination fees.
"This new Trades Training Fund is exciting news, particularly for employers, but also for our students and potential students looking to pursue an apprenticeship," says Steve Moores, Dean of Trades and Apprenticeship at Okanagan College.
Employers who have committed to hiring a graduate, are seeking to upgrade training for existing employees, or who are sponsoring an apprentice may apply for the funding.
Applications opened on Oct. 15, 2015 and will continue until further notice.
More information about the fund, including a full list of the Apprenticeship and Pre-Apprenticeship programs covered is available at www.bccassn.com/lngcanada.