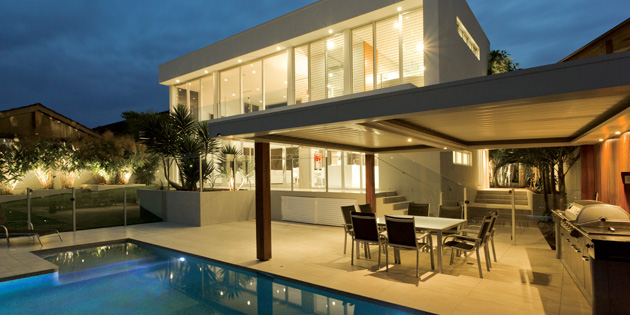 Think of it as a home with ample space for the luxury toys of the well-heeled family. Not just any space but a special spot to park your collector cars, an ATV or two, perhaps a cabin cruiser on a trailer or even space for your own personal squash court.
The concept is one being marketed in a new upscale neighbourhood in Kelowna's Upper Mission. Called The Edge, the hillside zone of oversize strata lots will be part of a gated, private community. This exclusive community is part of a larger development called Trestle Ridge. The lots, ranging up to more than half-an-acre in size, command stunning, unimpeded views of Okanagan Lake, the bridge and the mountains beyond.
Perched above the Village of Kettle Valley, this brand new neighbourhood of Trestle Ridge offers all the amenities and community features celebrated in the Upper Mission, with a new era of architecture and unparalleled views. The development guidelines incorporate the latest styles of transitional architecture designed to maximize the modern homes desired by today's buyer while blending with the spectacular natural setting of creeks, mountains and miles of hiking and biking trails.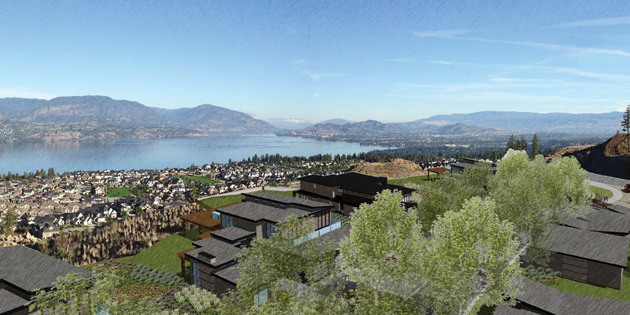 Portions of the oversize strata lots in The Edge are dedicated to home sites and are located on one side of an access lane that runs through the parcels. On the other side are the accessory sites, on which owners will have the option to build as large as a two-storey structure up to about 1,500 square feet.
The concept of a special place to house one's adult toys is unique to the Okanagan, but is not without precedent. A version of it was recently marketed in Calgary and sold out right away, says Melody Santos, controller and development manager for Trestle Ridge.
The developer is confident the concept will prove popular with buyers who are increasingly viewing the Okanagan as a recreational playground. "We see this as a unique opportunity to accommodate people in that upscale category who have all the recreational toys—ATVs, RVs, and boats—but nowhere to store them," said Santos.
"The Okanagan is kind of special in that we see a lot of NHL players live here in the off-season," Santos said. "This could really appeal to them in that it could be used as a workout facility, or a squash court, anything for recreational needs. Or it could be set up as a garage/man cave combo with a loft designed for a big screen TV and lounge area overlooking a luxury car collection."
The developer offers an open builder program, which allows owners to choose a designer and builder to construct the home and accessory structure, said Santos.
For more information on Trestle Ridge and The Edge, drop by the sales centre and brand new show home, located at 5730 Mountainside Drive, or register online at www.trestleridge.ca.
[downloads category="progress-archives"]