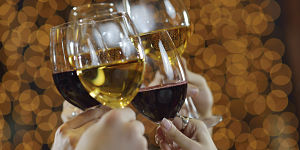 Raise a toast…"Here's to The Best!"
We all have cravings. I'm sure more than a few Vancouver and Toronto hockey fans were craving one more win. Some cravings, however, are a bit easier to indulge.
Best Cravings is one of the largest sections in our Best Restaurants Readers' Choice Awards. I know you can almost taste them, the french fries from Jeffer's Fryzz food truck in Penticton. Perhaps you crave the best pizza (can we say Bordello's in Kelowna?) or the best ice cream (yeah! Tickleberry's in OkanaganFalls). No matter what your flavour sensation, best restaurants across the Valley continue to satisfy our appetites.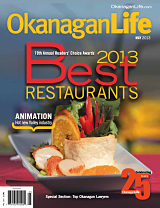 Being the best is all about acting on that craving to be at the top of your game, craving to be at the top of your industry. In true Okanagan fashion, I'd like to raise a glass in salute those whom our readers have voted The Best.
Whether you choose a cool brew (Cannery Brewing's Naramata Nut Brown Ale), opt for a best white (Gray Monk's Gewurztraminer) or a best red (Mission Hill's Merlot), raise your glass high.
Before you do, I'd like to introduce you to one more wine—the Best Red of Them All. We chose a Meritage, a nice little blend of Merlot and Cabernet grapes, and created our very own wine label. We needed a special vintage because we're doing some serious celebrating of our own here at Okanagan Life—marking 25 yearsas the magazine the Okanagan lives by.
With a focus on great writing and creative art direction, we've delivered to our readers a quality publication that has become the Okanagan's best read magazine, and tops the chart for per capita readership in North America.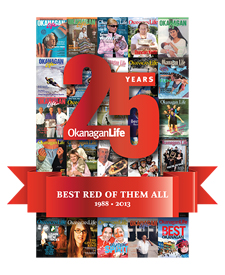 We've been telling the stories of the Valley for decades, beginning with our first issue in 1988. Our wine label celebrates those years with a collage of 25 front covers. On the first, we featured artist Robert DowReid, creator of Spirit of Sail, the grand sculpture on the Kelowna waterfront. In the mix you'll also find Kelowna mayor Jim Stuart, Olympian and Stanley Cup winner Duncan Keith, and plenty of water and snow sports heroes. Through the years, we've published ablend of culture, sports, politics and amazing people and lifestyle stories.
We deliver 10 issues a year, which are read month after month in businesses and homes across the Valley. Which brings me to our White on Time label, a crisp Pinot Blanc I chose as our white wine celebration vintage. Using Okanagan-grown grapes, the winemakers at Bounty Cellars created, bottled and labeled both of our anniversary wines.
Let's all dine out and a raise a glass of cheer. Pick a best restaurant, perhaps a best restaurant with a view (Hooded Merganser in Penticton, Earls on Top in Kelowna, or PeakFine at Sparkling Hill Resort in Vernon) and celebrate our Okanagan life. Raise a glass to our 25 years and to all the best restaurants and great businesses that make the Okanagan Valley a wonderful place to live and dine.
-John Paul Byrne, Publisher