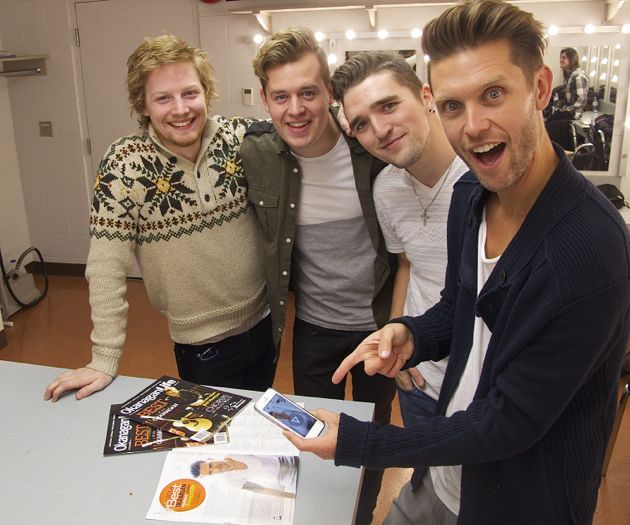 Andrew Allen and band reaction to the embedded music files in Okanagan Life's December issue.
Paul's Voice – December 2014:  We're in a celebratory mood at Okanagan Life so we have some early holiday gifts for you. This year, our Best of the Okanagan pages are literally singing for your success. Technology has allowed us to embed four unique song recordings in the pages of this Best of the Okanagan issue.
Links for your smartphone or tablet: 

Download the Junaio & open the Okanagan Life channel

Take your phone and scan the magazine page to listen to music.


[purchase_link id="125250″ style="" color="" text="Purchase" direct="true"]
Download the Junaio app, scan to code open  the Okanagan Life channel, then take your smartphone, pass over our special pages, and voila, you'll hear the sweet sound of music, including Okanagan Life's 2014 Best Musician, Andrew Allen. The remake of his popular I Wanna Be Your Christmas song was recently released on his new Christmas album. You could buy it in your main street music store, but technology in the form of iTunes says otherwise. (Monopolies, humbug!)
The holiday season is all about giving, so we also have a goft for you embedded in our feature story where you can scan to hear Okanagan choirs Sing It Out.
This year there are a whopping 812 winners in Okanagan Life's annual Best of the Okanagan readers' choice awards.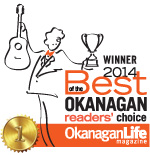 Best of the Okanagan has become a powerful brand for businesses to revel in, boast about or simply enjoy the ra ection readers bestowed on them. The list is full of Okanagan-based, independently-owned small shops, where the staff and owners deserve to be called "The Best," so please acknowledge, support and patronize local business. Folks, we're in a "No Amazon" zone.
All businesses need to innovate so we are venturing further into the interchange of print and digital. After 26 fabulous years of publishing one of the best-read magazines in North America on a per capita basis, we have also invested heavily into okanaganlife.com. We carry all magazine stories as well as the latest community news, wine reviews, concert and event updates and everything Okanagan at okanaganlife.com.
Today to be the best, technology and innovation are necessary ingredients in creating exceptional communities, websites and commerce. My hope is that the innovation brings dollars back into our local community, rather than flowing out.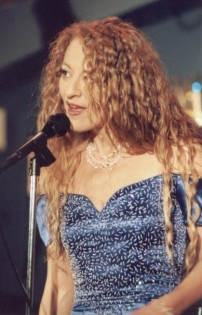 I have heard your cries of "show me the money" and for that success, you've got to "show your business" — whether on main street, in the pages of Okanagan Life or on the World Wide Web. For a bit of inspiration, my gift to you is one of my own original musical works, performed in true celebratory mode more than a decade ago at Okanagan Life's 15-year anniversary. The stunning voice is Vernon's own Cathy-Ann Wells, shouting out my Show Bidness score.
Photo: Vernon artist Cathy-Ann Wells rocked the house for our 15th anniversary in 2003. Scan Paul's Voice in the December 2014 edition to hear her rendition of Show Bidness.


---
[downloads  ids="125250″ columns="1″ full_content="yes"]