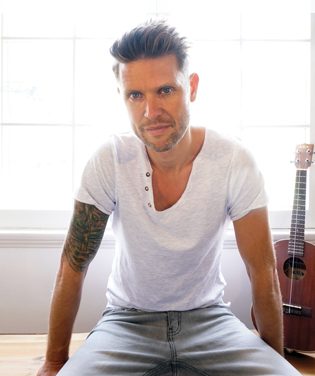 Some unique celebrations were under way in North Okanagan back yards this past summer as local musician Andrew Allen was in town and doing it up Okanagan-style. Performing live at private parties, his Okanagan stops were part of a BC-Alberta tour.
"Stage performances are great, but I love to get where it is real," says Andrew. "Vernon has been such a supportive community??—?and where my musical inspiration comes from??—?and it is great to be in a place where you are cared for a lot."
He's definitely cared for by Okanagan Life readers who voted him Best Local Musician in this year's Best of the Okanagan awards, topping a stunning list of musicians and groups. This best new artist of 2009 has seen his lead single Loving You Tonight reach the top 10 with more than 90,000 sales and last year he co-wrote Last Chance, which appeared on the Grammy-nominated album Atmosphere by Kaskade. Partial proceeds from his newly released Christmas album All Hearts Come Home will support Andrew's humanitarian work in Ethiopia.
The Best of the Okanagan celebrates singer-songwriters like Andrew, and the shops, spots and services that make our Valley the wonder it is. The great efforts of North, Central and South Okanagan businesses have been recognized by the votes of our readers and tabulated from official ballots. Shop local and celebrate these winners whose products and services are the Best of the Okanagan.
[downloads ids="125250″ thumbnails="yes"]