But it's early days in all of this. Both Winfield and Westbank have only quite recently tugged themselves and their surrounding communities into cohesive municipal wholes. Now, the work is to create the centres.
Planners and councils and mayors know that mixed use and walkability are the keys to this kind of revitalization. How to ensure them?
John Perrot, the thirty-something economic development manager for West Kelowna is up for the challenge.
"Our reference is South Pandosy in Kelowna," he says. "It's our desire and our challenge. The livable, walkable neighbourhood. The town centre thing."
But buy-in is not assured.
"If it's only going to be healthcare and residential, then I sort of worry," says Kristin Laprise.
A West Kelowna food and wine consultant, Kristin and her husband Martin, a chef, operate a catering company from Rabbit Hollow, their tiny farm. They are just a stone's throw from the site slated for the new municipal hall. She's all for revitalization, but has concerns.
"Quite frankly, I would love to stroll to the end of our property and pop onto a real main street," she says. "Brown Road looks lovely, but can we not get some retail in there? I would love to see encouragement of that."
Diane Roussin and her husband Gerry retired and moved from North Vancouver to West Kelowna three years ago.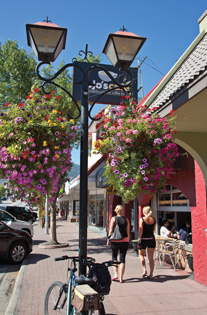 She says she understands that the municipality has to plan for the future and even dream a little. But she wonders whether it will be possible to get the critical mass of population necessary for a truly pedestrian-oriented live-and-work neighbourhood in Westbank's town centre revitalization.
"It's the forest edge," she says. "Where will development happen? Where will everyone live?"
Mayor Findlater takes the long view. He is optimistic, as mayors tend to be.
"I have these breakfasts with the business community," he says. "And business is looking for that town centre vitality. I think we will end up with the walkable pedestrian-oriented town centre."
Can you get there from here? Will there be sufficient population in either community to create and sustain real and vibrant town centres?
The population of the Central Okanagan is projected to grow from the current 187,000 to 261,000 by 2036. All those new people have got to live somewhere. And shop somewhere. Main Street may get pretty busy. But we like that.