Westbank is the de facto capital of West Kelowna. Winfield anchors Lake Country. Both communities are betting on the lure of citizens' and newcomers' yearning for a sense of place. Memories of Main Street.
Winfield built itself a beauty several years ago, complete with charming iron lamp standards and elegant sidewalk trees. Brick crosswalks traverse the well-designed intersections. It's as pretty as a picture. Main Street has everything a lovable high street needs. Except shops. And pedestrians. It is vacant.
Where you might reasonably expect to find coffee houses, specialty shops, townhomes, low-rise apartments, storefront businesses and offices, there is — nothing. Several long blocks of it. A single low-rise bank building stands lonely sentinel on a northeast corner.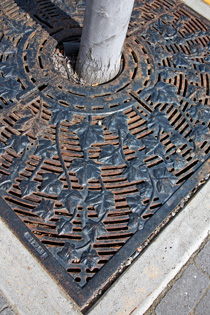 But now a major Kelowna developer has submitted elaborate plans for the development of an entire block of Main Street.
Ryan Roycroft, economic development manager for Lake Country, thinks it will fly. Even though the developer has requested a zoning amendment for one area of the three-acre parcel, Ryan sounds confident that Main Street will roll out as designed.
"This developer does get it," he says. "They've done a really good job. And our planning department has done a good job. They've really worked together."
The zoning issue? To make the project economically viable, the developer says it needs to build a drive-thru restaurant as part of its four-building complex. Public hearings and traffic impact assessments are up next.
To be fair, the drive-thru will face onto Highway 97, not Main Street. Artwork for the proposal shows exactly the sort of streetscape we find so compelling. The sort of thing the street was designed for and zoned for. "Mixed use is what we're after," says Ryan.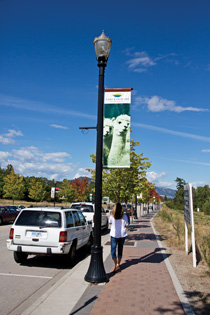 Long time Lake Country resident Greg Wagner likes Main Street. He gets it.
"I can understand what they are trying to do," he says. "And with the right mix?… Well, people do like to just walk across the street."
Bringing main streets and high streets back to life — or creating life where none has previously existed — requires enormous dedication. And patience. The long view.
"I picture Main Street 10 years from now," says James Baker, the avuncular mayor of Lake Country, "buses, cycle paths, shops, people, five-storey buildings. Density can be achieved."
It has been a slow and steady process for James and his staff and council. "Right after Lake Country was incorporated, there was a vision of getting off the highway," he explains. "The first council made it a priority."
Provincial and federal infrastructure grants were applied for and received. Some land for Main Street had to be removed from the ALR. It was all rezoned to "town centre." The 2008 downturn struck just about the time it was all done.
The mayor, a former professor of cultural anthropology, appears unruffled. "That did have an effect," he says. "But we're not going broke on this."
See more including the Okanagan Main Street photo gallery: links below.
No Downloads found