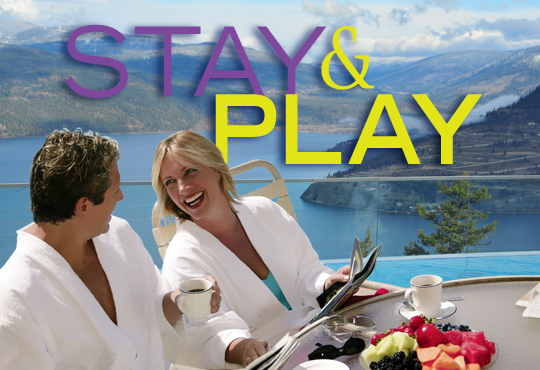 No passports, no airport pat downs, no more than a single tank of gas. Maybe it's time we discover what tourists from around the world already know.
A few months ago, I was talking to a travel writer pal of mine in Toronto whose specialty is spas. Toby has roamed the world and sampled the best, but spas aren't my beat and besides, I'm jealous, so I don't always pay the closest attention when she raves on about her latest mind-boggling experience. On this occasion, though, two words grabbed my attention, Sparkling Hill.
"Wait a minute," I said. "Are you talking about the resort here in the Okanagan?"
"Of course," she replied, sounding a little miffed that I'd cut her off in mid-rapture. "It's right up the road from you in Vernon. Haven't you tried it?"
I had to admit that she was ahead of me on this one. Typical really. How often do we ignore the great things right in our own backyard? But Toby had piqued my curiosity, so I booked an early spring weekend package and the hubby and I headed north. Let's just say that we had such a great time and got such a smokin' shoulder season rate, that I decided to see what else we've been missing here in the Valley.
Here's what I found: spas and wellness, wine and golf, girls nights and guys only, romance and family time. Take advantage of incredible seasonal deals and book your own Okanagan staycation.
Spa and Wellness
Since Sparkling Hill Resort got me started on this quest, let's begin with their unique array of spa and wellness amenities. Unlike most spa retreats where you're required to pay separately for use of everything but, say the hotel pool and fitness room, all guests of this Vernon resort have abundant choices included. Among the complimentary KurSpa facilities (available until 6 p.m. on the day of check-out) are seven themed steam and sauna rooms, including the -110 C cryotherapy cold sauna, commonly found in Europe but a first in North America—and still a mystery to me. I was more into the hot/cold/hot experience of the Kneipp water therapy and the tea and serenity relaxation rooms.
Sparkling Hill offers a wide range of spa packages that include one to seven nights accommodation, full breakfast in PeakFine Restaurant (or all meals-in, full-week programs), a credit toward KurSpa treatments plus everything from yoga and meditation classes to the individually designed whole body wellness or cleanse and detoxification regimes.
Right next door, Predator Ridge probably springs to mind first as a championship golf venue, but with its newly renovated Aveda Concept Salon & Spa this is also a great pampering retreat. The Spa-ahhh package at Predator Ridge includes overnight accommodation in the Lodge plus continental breakfast and a credit for spa treatments. Savings mid-week can be even greater.
In Kelowna, the Best Western Plus offers an in-house spa with a wellness spa getaway that includes one night accommodation, continental breakfast and gift certificates for both services at the Wellness Spa and the 97 Street Pub.
The Delta Grand Relax and Renew spa package is also a one-night retreat with chocolate covered strawberries waiting on arrival and a choice of massage or deluxe pedicure with sugar scrub and hydrating mask.
Further south, escape to the Naramata Heritage Inn for one or two nights with a dining credit for Cobblestone Wine Bar and Restaurant and either a massage, facial or pedicure in the Aveda Concept Heirloom Spa (April to October).
The Watermark Resort in Osoyoos offers accommodations plus a credit in its Illumination Spa while the nearby Spirit Ridge package includes an overnight stay plus gift certificate for the Sonora Desert Spa.
Romance
Who says you have to wait for Valentine's to romance your sweetie. Autumn is a great time for a cozy retreat in wine country. Burrowing Owl winery in Oliver offers a two-night Harvest Package in the Guest House, complete with three-course dinner in the Sonora Room Restaurant and a wine-country breakfast.
With Walnut Beach Resort's Sunset for Two package you'll sip a glass of complimentary bubbly served with the chef's special chocolate creation by your in-suite fireplace. In the morning, enjoy a lazy wake-up with continental breakfast delivered to your door and late check-out before returning home from Osoyoos.
The romantic getaway at Watermark Resort in Osoyoos provides accommodation in a one- or two-bedroom lake view suite, sparkling wine and amenity on arrival, a credit for the Wine Bar & Patio and the luxury of late check-out.
Kelowna's Best Western lays on the romance with one night in a specialty room, cheese and fruit tray, a bottle of sparkling wine and keepsake flutes, chocolate truffles, a long-stemmed rose, two drinks at the 97 Street Pub and continental room service breakfast.
At Sparkling Hill, the Couples Escape offers access to all of the resort's complimentary wellness amenities for a two-night stay. Enjoy a welcome cocktail at Barrique & Java, three-course dinners each night and full breakfasts in PeakFine Restaurant plus vouchers for KurSpa treatments.
Wine Time
A wine touring weekend strikes me as the quintessential Okanagan staycation. Let someone else handle the details while you sip and savour a vintage getaway. Experience Nk'Mip Cellars, Inniskillin and Jackson Triggs wineries plus added voucher savings on wine purchases with the Great Estates of the Okanagan package offered by Spirit Ridge Resort in Osoyoos. Accommodations in a one-bedroom suite on a minimum two-night stay.
Penticton is a great base for wine touring. The Penticton Lakeside Resort and Casino takes advantage of its location to lay on a South Okanagan Wine Tour. This package includes a two-night stay, welcome gift, one breakfast and a full-day wine tour that features five to six wineries and a bistro-style lunch.
In Kelowna, the Delta Grand provides three different options for wine appreciation. Along with one night's accommodation, you can choose from a Westside Bench tour with lunch stop; an Eastside Bench tour with cheese tastings; or a Northern Bench tour to Lake Country.
Best Western Kelowna pairs a two-night stay including continental breakfast with either a full- or half-day outing aboard a luxury wine tour vehicle.
Golf Getaways
At Predator Ridge Resort in Vernon, you can stay and play with one night's accommodation in a studio suite at the Lodge, enjoy a continental breakfast then hit the links for a round of golf.
Other hotels and resorts such as Best Western Kelowna and Delta Grand in Kelowna, Best Western West Kelowna, Penticton Lakeside Resort and Casino, and Watermark Resort in Osoyoos offer packages that include golf at various local courses.
Girls Night Out
Remember the fun of giggly Saturday night sleepovers? Why not collect a gang of your gal pals and recreate the magic on a girls-only getaway. At the Cove Resort in West Kelowna, you can kick back in a luxury suite with a welcome gift of local sips and savours then indulge in a one-hour massage at the Spa at the Cove. When you're fully relaxed, pop a cork, switch on the big screen and chick flick the night away.
At the Walnut Beach Resort in Osoyoos, the Just for Girls getaway is based on a two-night stay in a one-bedroom suite. A bottle of Okanagan wine and a cheese plate are waiting when you arrive and the package includes a gift certificate for use in the Promenade Wine and Tapas Bar or Touch of Heaven Spa plus continental breakfast delivered to your room.
Guys Only
And why should the girls have all the fun? How about a two-night golf and poker package for the guys. Lake Okanagan Resort invites groups of four buddies to stay in the Pointe Beach Villa. Tee up for a round on the 9-hole golf course or square off for a round robin tennis match, then tuck into a full New York steak dinner, a bucket of beer, cigars, sandwiches and chips delivered to the game.
A Night on the Town
Kelowna's Prestige Inn offers a couple of packages to let you enjoy city life without worrying about who's going to be the designated driver. Tourist in Your Own Town includes accommodations and a dining credit at DaNoha's Mediterranean Grill. Sports fans can take advantage of the Sun & Ice deal with a discount on the room rate by showing their Rockets or Okanagan Sun tickets at check-in.
Family Time
The full-on Disney delight may not fit this year's budget, but that doesn't mean you can't get away for some quality family time. The Delta Grand welcomes your whole gang for a one-night stay plus a family pass for Kelowna's H2O Adventure + Fitness Centre. At Lake Okanagan Resort, the Fall Escape package includes a studio suite and voucher for the Vantage Pointe Grille.
By Laurie Carter