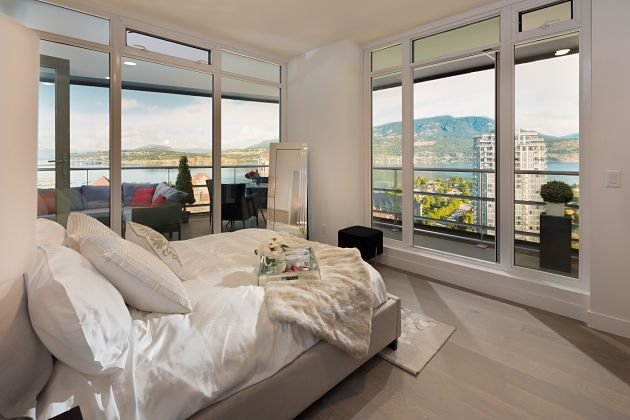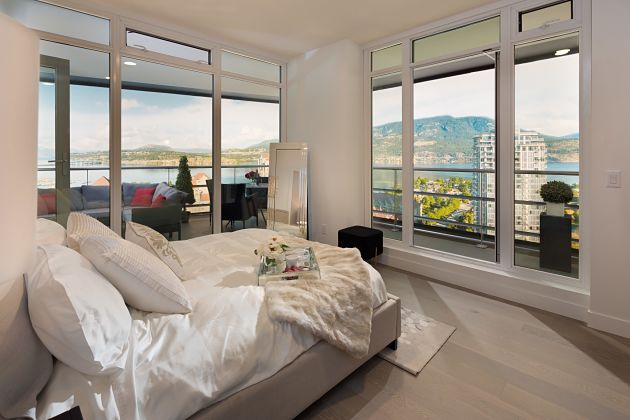 Show suites for Kelowna's newest high-rise, 1151 Sunset Drive, are now on display at the presentation centre on 1001 Manhattan Drive.
"We are happy to finally be able to show Kelowna residents some progress on the site," says Leonard Kerkhoff, vice-president of Kerkhoff Construction. "We are proud to be providing more prestigious housing in downtown Kelowna."
The building will feature a concrete and glass tower with contemporary colour accents, reflective pond in front, with a cascading waterfall,  glass and concrete façade and extensive amenities such as a multi-purpose room, plunge pool and fitness room.
The award-winning Meiklejohn Architects Inc. has updated the design of the new condo from the original concept.
"Homeowners are now able to see our vision for the building and its homes and will now have a greater sense of what is going to happen to the space, which has been inactive for some time," says Jim Meiklejohn.
Two fully-furnished show suites display designs for one-bedroom and den and two-bedroom and den condos featuring stunning views of Okanagan Lake,  nine-foot ceilings, plank hardwood flooring and quartz and marble countertops.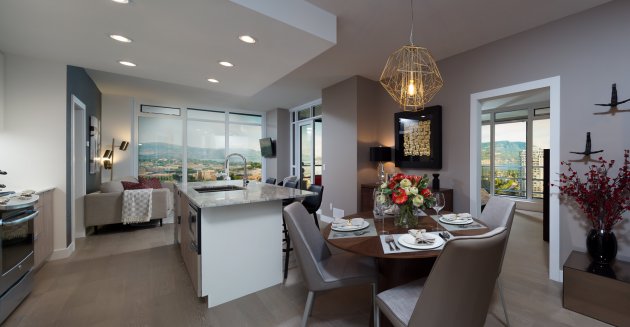 Homes will range in price from the low $289,900 for a one-bed and den up to a high of $1.6 million for a sub penthouse. Two-bedroom homes range from $399,900 to $717,900 while townhomes are offered in the $740,000 to $900,0000 range.
Sales of the homes will not commence until late September, so previews are only with the intent of providing the public with more information about the recently resurrected site prior to making a decision to purchase. The development includes 117 condominiums and seven townhomes around the podium.
The presentation centre is open Monday to Saturday from 10 a.m. to 5 p.m. To book an appointment or to register to receive updates about 1151 Sunset Drive call 250-980-7637 or visit 1151sunset.com.
---
[downloads ids="137099″ ]