Are you a bargain shopping Boomer or a search savvy Millennial when it comes to shopping?
Perhaps you're more in line with a Gen Xer who buys what they like, or a brand loyal shopper from the Silent generation. We interviewed people up and down the Okanagan Valley to see how they fit in with their generation when it came to shopping habits and trends.
The Silents 
70 - 95 year olds with an eye on value.
These shoppers have seen enough to know what they like and are very brand loyal. They also look more for value and comfort than for price and style. The majority of Silent's are retired, own their own home, are on a budget and love a bargain, but not at the expense of quality. 25% will read product reviews.
Silent Shopper: Ernie Perry
Location: Vernon, BC
Age: 74
Status: Retired Married Homeowner
Combined household income: 50,000 to $75,000/year
When it comes to brand loyalty, Perry is very much like his contemporaries. "We don't buy no name brands because I think it is inferior quality every time," he said. "And when it comes to vehicles, I only buy new and direct from the dealer. I know what trucks I like and those are the ones I buy."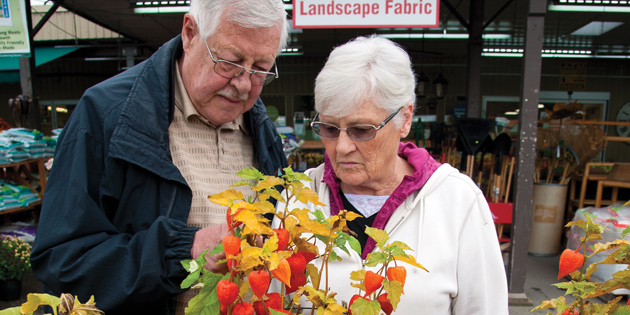 He and his wife Darlene usually buy at big box store grocery outlets. They rarely shop at the smaller stores because of the higher prices. When it comes to fresh produce that's where they draw the line.
"We get good fresh produce from our farmers market. We don't look for organic specifically, but if it's the same price we'd get the organic."
As for larger items, quality and history play a major part in the purchasing decision. "We buy well known brands of appliances because they have a good track record. I don't buy cheap stuff - I want quality."
However, when it came to discounts and price checking, there is room for discussion. "Advertising doesn't really affect my purchases, but I do look at the flyers and price check to see who has sales on or who has the best deal," said Perry. "For larger, more expensive items, like small appliances, electronics, etc., I would check to see if there was a discount for floor models. We just bought a table that was a demo, but there was nothing wrong with it. If it was damaged in a noticeable way I wouldn't buy it even if there was a discount."
When it comes to impulse buying, Perry says it rarely happens. "We may buy more than we intend to at the big box stores, but that's because the prices are good."
25%  reads product reviews before buying.
Baby Boomers

51 - 69 year olds tech savvy coupon clippers. 
These shoppers are used to being catered to. Once the largest demographic on the planet, most boomers are still in the work force and planning for retirement. They shop at discount and thrift stores, they comparison shop for almost everything, and see expensive purchases as long-term investments. They also shop online and buy eCoupons. Twenty-five percent of Boomers are impulse shoppers.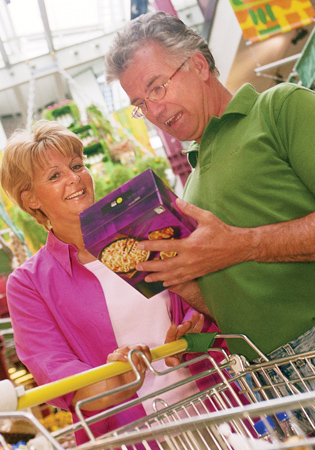 Baby Boomer: Doris Langlois
Location: Kelowna, BC
Age: 59
Status: Single, empty nester, and condo owner
Household Income: 75,000 to 100,00/year
When it comes to comparison shopping, Doris Langlois is very much a boomer. She checks out several stores before making large or important decisions. Smaller items like clothing and groceries depend on where she is and what she needs. "When it comes to grocery shopping, for the big shops I go to my big supermarket. For small items, I go to the local grocer. When it comes to brand loyalty, it depends on the product. For example I buy no name canned corn but I by a known brand laundry detergent because I know it works for me."
Langlois does not use social media to help make her buying decisions; however, she is not adverse to online coupons for items like eyeglasses. She estimates 10% of her total spending, including travel, is done online. "I do download books on Kobo and I'm signed up for emails that often have sales and I'll buy those products online."
When it comes to impulse shopping, Langlois admits she is one of those 25%. "If I see it, and I want it, I buy it. I was in a wine store and bought a pair of shoes because I liked them."
25%  impulse shopping.

10% online shopping (including travel).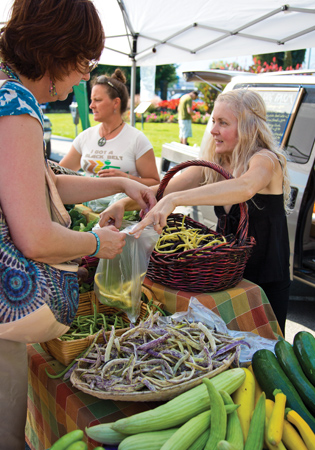 Baby Boomer: Jan Dickins
Location: Kelowna, BC
Age: 59
Status: Lives with significant other, empty nester, and townhouse owner.
Combined household Income: 150,000/year
Internet savvy Boomers, like Dickins, do online research and online purchasing because of convenience. "I often use consumer reports online to do larger item research such as electronics, cameras, food processors etc. I also use the Internet when comparing items. I do purchase quite a bit online, about 20% of my purchases. I buy books, skin care, watches, camera lens, colouring books, you name it, except clothing - I don't buy clothing online."
When it comes to brand loyalty, Dickins goes for quality and price when it comes to big-ticket items. "When I bought my new vehicle I went around town and test drove 12 different brands of cars and when I found the one I wanted.
Dickins admits she's not good at asking for money off, so she sends her partner in to do it. "He will ask for price matching. He also is the one who asks for the discounts."
Groceries are purchased at the closest larger grocery store; but fresh fruits and veggies come from the farmers market and organic grocers. "I don't mind paying extra for local, organic foods and locally made items," said Dickins. I don't live in a neighbourhood where I can walk to the shops, but I do have a few favourite gift stores I like to shop at."
Dickins also loves a good bargain when she can find it. "On occasion I will shop at consignment stores or discount fashion stores to see what I can find. If I don't have to pay full retail I'm a happy camper. You can get good quality at these stores for a third of the cost."
She also admits to being an impulse buyer. "If I see something I like and there is a birthday or anniversary or special occasion coming up, I'll buy it."
20% online shopping (won't buy clothes online).
See page two.
Our Oct-Nov issue digs deep into the profiles of Thompson Okanagan shoppers and we're celebrating how UBCO makes a big difference to so many facets of life in the Valley. Wine writer Michael Botner showcases a quintet of fabulous wines from selected producers on the multi-faceted Naramata Bench.