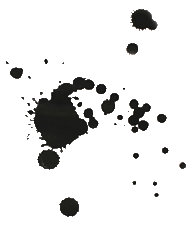 HOLY HELVETICA! What was "hick" magazine publisher Paul Byrne thinking when he handed his unproven, freshly-inked Ink! The Musical over to a semi-professional big city theatre company? And then expected them to put it on stage, much less even take it seriously?
Well, they didn't point Paul to the exit sign and tell him where to put his libretto. In fact, they told him Ink! The Musical might even have some merit. It could have been to assuage his tender country heart; maybe it was because theatre season was coming and they had nothing better to do.
So the folks at Triptych Theatrical Society came up with some good words to justify why they would stage such a risk.
"Mounting a new piece is an exciting change from other projects that I have been involved with," said James Gill, director of Ink! The Musical, after Paul promised to make him the subject of a cover story in his magazine Okanagan Life. "Working with Paul on a new musical means the creative team can look at the work and exercise a different kind of output."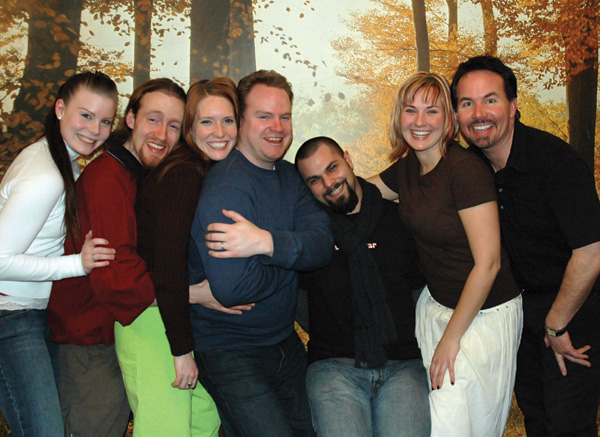 The cast of Ink! The Musical (L to R): Laura Cowan, Scott Barnes. Nadia Hovan, music director Chris King. Chris Olson. Kendahl Diebold, and Michael Walker.
Well, bribing has its advantages. Ink! The Musical is actually going to appear for the very first time at Performance Works on Granville Island in Vancouver April 14-22, mounted by Vancouver's Triptych Theatrical Society.
"Fortunately for us, Paul has been incredibly open to our ideas about the show," says James, whose previous directing and stage appearance credits are too numerous to list. "Ink! has wonderful music and some beautifully drawn characters."
Laura Cowan plays Amy, the daughter of Milt, the publisher of Memphis Magazine in the production. Already a veteran of many musical roles, Laura has been singing and dancing for half her 20 years.
"It is refreshing to be a part of a brand new piece of work," she said after Paul promised to introduce her to a big-time Broadway producer. "Ink! is definitely a challenge, an exciting one in fact, to be able to be the first performer to create a brand new character. Amy goes through transition and experiences that I can relate to and that I am still experiencing today. Amy is a delight to bring to the stage."
Ink! carries a special place in her heart, says the young actress. She was involved in its very first Vancouver workshop almost a year ago. "After seeing it grow into what now has become a beautiful piece to grace the stage, I can honestly say that it has reaffirmed why I perform."
As for Ink! creator Paul Byrne, Laura says his support, confidence and professional manner with his performers are appreciated. "Paul challenges our creativity while always staying open to our thoughts and new ideas."
WELL SAID. NOW ABOUT THAT BROADWAY PRODUCER…
"Paul has been so great with letting us give our opinions," added Kendahl Diebold after Paul told her his cousin from Pincher Creek was a major film director. She plays Contents, who is literally the contents of the magazine. "She is nor an actual person but rather represents Milt the publisher's dream and is the catalyst for the journey each of the characters Take."
Kendahl says what's refreshing about mounting a new musical like Ink! is that as an actor, she has more direct control on how her character reacts. "There is more flexibility to give your input if you feel something is unnatural for your character, more of a merge between actor and character."
"I think the music in Ink! is fantastic," she adds. "Iris definitely strong. There is such a variety of styles and every song allows the cast to really invest themselves into it."
Other Triptych cast members include Nadia Hovan as Connie, the evil editor; Scott Barnes as Ukrainian cowboy Ryerchuk and Ink! producer; Michael Walker as Milt, the publisher; and Chris Olson as the charming and handsome musician, John Colin. Chris King, an avid singer, songwriter and music teacher, is Ink!'s musical director.
As for Paul Byrne, he claims with practiced sincerity he can hardly believe Ink! has finally evolved to this stage after ten years of working on it. "There have been times I've felt, 'Why would I think I'm capable of doing chis? ' But I've stayed motivated and persevered for a decade, just like I have in the magazine industry for 25. I did it for my love of magazines, for my staff and my kids."
Laura is obviously dying to meet the Broadway producer if he indeed exists. "I want nothing more than to have Paul there opening night, front row centre, with tears in his eyes."