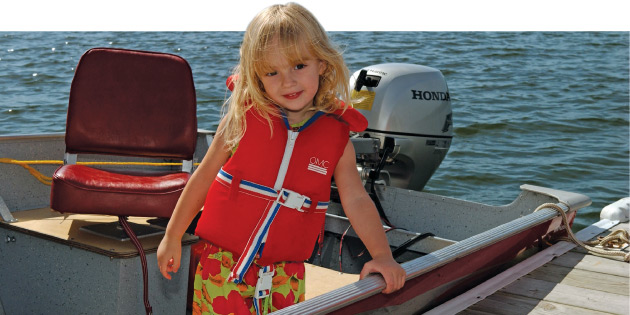 Power isn't the only problem
"Something really concerning us is stand up paddling (SUP)," says Molendyk. No surprise with the SUP boom in the past few years. One incident particularly stood out.
"We had to ticket a woman with no PFD on board and a toddler between her feet."
"Transport Canada requires one of two options," says Kevin O'Brien of Kalavida Surf Shop in Coldstream. "Paddlers can either wear a PFD or have it with them secured to the deck of the board. There are vest types and belt pack types. Belt packs, most popular for athletic use, competitions and training, attach around the waist and contain a CO2 cartridge to inflate when needed. These are not always easily visible from the shoreline." At Kalavida Kevin says vest-type PFDs are supplied to every person, they are educated on their use, and required to follow regulations before they rent a board.
This scenario would be familiar across the Valley to people looking to rent any kind of water equipment.
Early prevention
Another factor in curbing the alarming number of drowning deaths in the Okanagan is education. Just as early childhood education is key to school success, early water safety programs can give children powerful tools for self-preservation in an area dotted with alluring lakes and beaches. According to the Lifesaving Society of Canada, drowning can occur in as little as 10 seconds, and is often silent. The Canadian Red Cross revealed that, in the most recent 10-year period for which data is available (2001–2010), more than 570 children drowned in Canada. It also points out that 1- to 4-year-olds are most at risk in or near the water and are twice as likely to drown as 10- to 14-year-olds.
Kelowna residents and new parents Adrian Nieoczym and Karma Reine registered their infant son Corbin for the Parent and Starfish Program at Parkinson Recreation Centre as soon as possible. "The lessons are lots of fun for the baby and parent," says Adrian, an outdoor enthusiast and former scuba instructor. "And, it's great to get kids used to the water as early as possible, especially if water activities are something you want to do as a family in the future." The class is described as an orientation to water for babies more than four months old, and for the child and their parent/caregiver to experience buoyancy and movement through songs and play. At $36 for nine half-hour lessons at various times of the day, classes are affordable and available. "Corbin's a long way from being drownproofed, but this was great to get him comfy in the water. Plus it gave us some ideas about how to play with him in the water on our own." Similarly accessible, Kelowna's H2O Adventure and Fitness Centre offers the YMCA National program for L'il Dippers, aged 6 months to 5 years, at $47 for eight classes.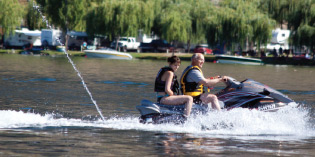 Basic swimming ability is a life skill that can prevent drowning. Water safety is a necessity, not a privilege for Okanagan kids. The Across the Lake Swim Society is doing something about it by donating the proceeds from the Interior Savings Across the Lake Swim, a total of $25,000 over three years, to provide the YMCA Learn to Swim Program for all Grade 3 students who have limited financial resources. Working in partnership with School District 23, the H2O Centre and Rutland YMCA, eight schools were selected for 2012, with 10 more schools added in 2013 and 2014, providing more than 1,700 children from Peachland to Lake Country basic swim and lifesaving skills. At present other Okanagan School Districts leave swim program planning to individual schools.
Have a safe summer
We urge you to get the appropriate safety training for yourself and your family. If you're going to operate any kind of powered craft, be sure you have the Pleasure Craft Operator Card. Carry all necessary safety equipment for the type of craft you're operating and follow the rules. Have a fun and safe summer on our Okanagan waterways.