Visitors to the Kelowna Art Gallery are in for a visual treat when they encounter Green Desire, an art installation conceived and constructed by Kelowna-based artist Kyle Zsombor.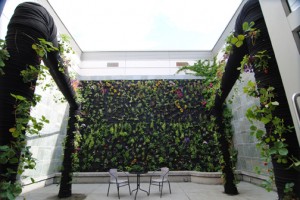 A vertical garden (sometimes known as a living wall) has been installed on the north-facing wall of the courtyard space. The other element is a planted arbor of clustered pillars in the centre of the space. The works are part of a new annual series of commissioned projects in the Rotary Courtyard space at the Kelowna Art Gallery which challenges artists to create a year-long installation in the form of a garden.
Throughout the full cycle of all fourseasons, Zsombor will be working hands-on in his artist's garden. Visitors to the Rotary Courtyard will be assured a different experience each time they visit, as Zsombor will be harvesting ripe strawberries, trimming and training plants, and adding seasonally appropriate evergreens and perennials during the year-long endeavour.
Kyle Zsombor has a Bachelor of Fine Arts degree from the University of British Columbia - Okanagan campus. His artistic practice generally encompasses socio-political critique using sculpture/installation or montage. He has an avid interest in gardening and has taken the opportunity to add this year-long project to his studio practice.
You can follow the progress of A Green Desire at  kelownaartgallery.com/greendesire. Curatorial text by Liz Wylie.
Kyle Zsombor: A Green Desire is now on view until Spring 2014 at the Kelowna Art Gallery,  located at 1315 Water Street in downtown Kelowna. The Gallery  acknowledges the generous support of The Greenery Garden Centre for A Green Desire.