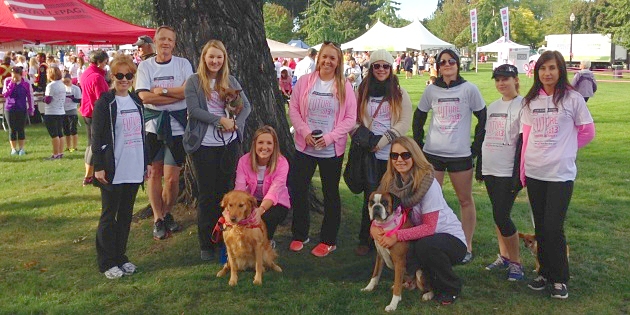 Pandora Orchard Park Mall celebrated its first anniversary this past June and is continuing its tradition of giving back to the community.
"We would like to thank Kelowna for welcoming us into the retail community, and all of our loyal Pandora consumers for making our first year such a great success," says owner Lyle Hance.
Pandora at Orchard Park is owned and operated by Lyle Hance, who remains very involved in the day-to-day operation of his stores. Lyle plans to continue growing his partnership with the brand by introducing Pandora to the people of Lethbridge, Alberta, this fall.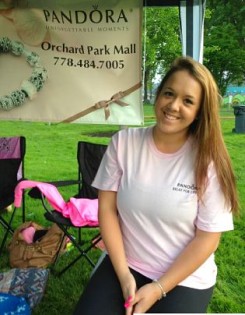 Regardless of the location, Pandora is committed to giving back to the community. Team Pandora Orchard Park Mall had a great opportunity to participate in Canadian Cancer Society Relay for Life (photo left) and the Canadian Breast Cancer Foundation's CIBC Run for the Cure (Team photo above) this past year. They also teamed up with 101.5 EZ Rock's Have a Heart Radiothon, raising funds for special equipment for the Kelowna General Hospital's new Pediatric Emergency Care Centre.
Pandora is a brand best known for its customizable charm bracelets. The high quality bracelet has a unique threaded bracelet system that can be styled with various Pandora charms. Pandora offers more than 600 pieces in sterling silver, 14k gold and two-tone to choose from to celebrate all of life's unforgettable moments.
Pandora's 2014 Club Charm — the first ever exclusive charm to honour loyal Pandora Club members — will be available, starting March.
Pandora offers equally charming jewelry pieces as well. Rings showcase a wealth of beautiful gemstones and precious metals combined with fabulous design. Mix and match to your heart's desire. They also have earrings, too: sterling silver, 14k gold, two-tone and an abundance of beautiful gemstones. Combine hoops and pendants to create looks for every occasion.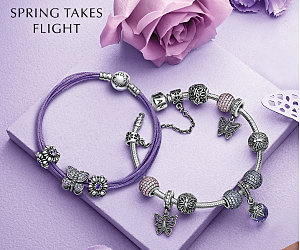 The Pandora range of necklaces and pendants also covers a great variety of materials and designs. Mix sterling silver, 14k gold and two-tone necklaces and add sparkling pendants to express your personal style. Stay up-to-the-minute with a Pandora watch; the Pandora Black Crown Diamond range combines premium Swiss quality with fabulous Danish design in an eye-catching collection of exclusive timepieces.
As seasons change, so does product and inventory. With winter starting to fade and warmer weather just around the corner, Pandora is gearing up to reveal the spring collection that will be launched in stores at the beginning of March, followed by the summer collection in mid-May.
This year, Pandora will  dedicate a whole month to moms, from April 11 to May 11. When you're shopping for that special gift for your mom, grandmother or that influential woman in your life, head to Pandora to see the new Limited Edition Charm and find out about gift set options that make shopping a bit easier.
"You know her; we know the collection," says Hance. "Together we can find the perfect gift."
Visit the Pandora website (www.Pandora.net) to see suggestions to suit your budget and  her taste, and then drop by to talk to one of the friendly staff members who are able to assist you. You'll find Pandora between the Peach and Pear entrances, not far from the food court, at Orchard Park Mall.