Skiing at local resorts is definitely a draw for Kal Tire, says Krystal, but she adds that most of their retreats take place spring through fall. "As well as ski hills, favourite settings for meetings are estate wineries and lakeside resorts," she says. And Kal Tire organizers find that golf and fishing are always requested add-ons.
At Mission Hill, Heather agrees that spring and fall are their busiest corporate seasons. But they too offer a popular alternative to the ski hills. "Our Chef's Table, a multi-course food and wine pairing culinary theatre dinner, where guests watch and interact with the chef, is in demand year round," she says.
"It's all about the interplay with wine, food and nature," says Jim Simpson, Naramata's head of Strategic Partnerships and Development. "The overall theme over two to five days … is usually compatibility and learning about working together with a focus on the soft skills of learning—who I am as a person and how I relate to others—around field adventures like hikes and winery tours."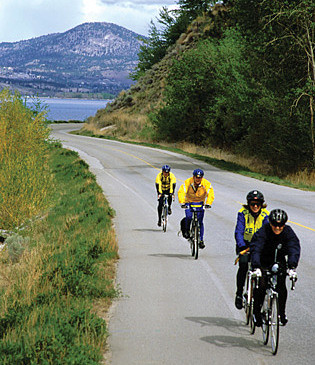 Meeting planners agree that team building at off-site locations is an effective strategy for rewarding employees who have worked hard and helped companies achieve blockbuster results. They provide an opportunity to celebrate successes, brainstorm and chart a course for the future. Outdoor activities integrated with brainstorming, facilitated business exercises and meetings can be a powerful morale building combination.
"The idea of a retreat is to leave the office behind," says Mike Micalowicz, author and former columnist for the Wall Street Journal's Small Business section. "To get the most bang for your buck, make it an overnight event. Let people relax and not rush the experience." He also advises undertaking an activity or two that are not simply about taking a break, but where colleagues have fun together, laugh together and challenge each other. The outcome of such an experience is a story to share.
However, retreats aren't all fun and games and they're not guaranteed to work. Using extreme activities as a substitute for well-planned cooperative activities, and squeezing community building into a tighter and tighter timeframe (as often happened during the recession) can backfire. And failing to include time for debriefing exercises at the end of the retreat is a huge mistake.
It can be risky to underestimate the importance of delegating the planning to an experienced in-house or external team. One way to improve the odds for a successful retreat is to hire a skilled facilitator, someone to get the team thinking out of the box, help them figure out the key issues and create a forum where everyone is comfortable contributing to their full potential.
Whether it's a wine and cheese kayak excursion, snowshoe tour, lakeside winery lunch or cycling expedition that complements skills training and goal setting sessions, corporate retreats can be a powerful tool for corporate success. And the Okanagan is prime territory for making it happen.