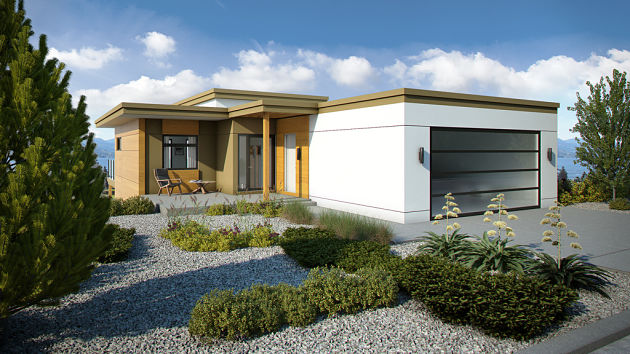 Skaha Hills, Penticton's $250 million master planned community is poised to be the most energy efficient housing development in British Columbia. Building techniques will guarantee homeowners lower utility bills and reduced impact on the environment.
"What sets Skaha Hills apart is the fact that it is ensuring energy efficiency throughout all the homes in the community – not just one," says Gilles Lesage, operations and training representative with Total Home Solutions Inc. "This would by far make it the most energy efficient development in British Columbia, if not in all of Canada."
As a Certified Energy Advisor and Registered Home Inspector with Total Home Solutions, and having inspected thousands of homes throughout Western Canada, Lesage advises the Skaha Hills development team on the analysis and selection of the most efficient and cost saving mechanical systems for its homes.
In pursuit of the highest energy efficiencies, building techniques at Skaha Hills include ICF (Insulated Concrete Form) foundations and SIP (Structurally Insulated Panel) wall construction. Each home will employ a condensing natural gas water tank for conservation and recycling of hot air, Hi-Seer Air Source heat pumps, VSM ultra-hi efficiency furnaces and LED pot lights. The homes' windows and overhangs have been positioned in such a way as to provide shade and cooling in summer, while still allowing maximum solar gain through the winter.
Most new homes built by today's building code standards range from 65 to 72 on the EnerGuide rating scale of 0 - 100. Homes requiring little or no purchased energy would have a rating of 91. With the construction techniques employed at Skaha Hills, homes will achieve an energy efficiency rating of between 86 to 88, resulting in the lowest monthly costs possible to each homeowner.
"Buyers have recognized that these homes are not only in a spectacular location overlooking Skaha Lake, but are also an excellent investment from an energy saving perspective," says Curt Jansen, VP of sales and marketing for Skaha Hills.
Skaha Hills is a Greyback Developments project in partnership with the Penticton Indian Band Development Corporation.
For a comprehensive list of sustainable initiatives incorporated at Skaha Hills homes visit: http://skahahills.com