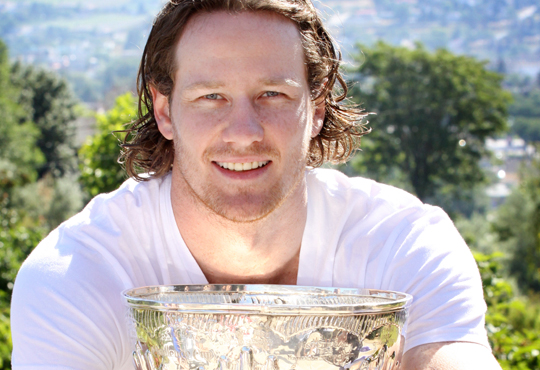 NHL and Team Canada star Duncan Keith
Was he dreaming of a day like this when four-year-old Duncan Keith laced 'em up for the first time in Fort Francis, Ontario. Most Canadian kids dream of playing in the NHL but maybe Dunc (as his father David calls him) dreamed bigger. The magnitude of what the Okanagan's own Duncan Keith accomplished last year is the epic stuff of fairy tales. He struck gold as a member of Team Canada's ice hockey team in the 2010 Vancouver Winter Olympics in February. He helped end a 49-year drought for the Chicago Blackhawks by winning the Stanley Cup in June and, since good things come in threes, he was awarded the James Norris Trophy as the NHL's best defenseman of the 2009/10 season. Here in the Valley, we call that hat trick a "Slam Dunc."
Okanagan Life caught up with Duncan Keith, and parents David and Jean, to learn how a boy's dreams, a family's pride and a hockey community's hopes manifested into one of the best seasons ever.
Lots of Ice Time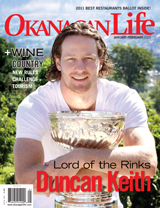 Those who know this 27-year-old, point to his single-minded focus and devotion to the game for his success. The work ethic and off-season dedication he displayed throughout his childhood is legendary. Living only two blocks from the outdoor rink in Fort Francis, the Keith kids had practically unlimited ice time. "We had long winters," says David. "Dunc and his brother Cam and sister Rebecca would skate and play for hours on end."
Hockey dads like David understand that hours of skating and repeating drills is crucial to mastering the skills necessary to make it on the top competitive "rep" teams. He believes that kids that rely on paid ice are at a substantial disadvantage compared with kids that skate on Canada's frozen ponds, lakes and streams. "Southern Ontario's free ice also gave (Olympians) Pronger and Richards their start in the hockey world," says David.
"Duncan always wanted to be the first one on the ice," recalls Jean, who out of necessity taught her son how to start the car for the 5 a.m. practices. "It was –32 degrees, but he would be up and in the driver's seat. He was so keen to get to the rink." David recalls one time when Jean was driving him somewhere and she stopped at Duncan's grandparents' house. When she got out of the car for a moment, Duncan jumped in the driver's seat. Somehow he put the running car in gear and proceeded to drive directly into his grandpa's garage door. "I give him a lot of credit," quips David,  "he hit the door dead centre, which lessened the damage" (and probably the odds of him becoming a race car driver).
A Home in the Valley
When Duncan was 14, the Keith's made a life changing decision for their family. Cam had recently left home to play in Kenora and soon after, the Thunder Bay Kings wanted Duncan for tryouts. The goal was to find a community where the kids could live at home and still play rep hockey. David pursued a job in Calgary but when Summerland CIBC needed a bank manager, it caught his attention.
"If Brett Hull and Paul Kariya could play in Penticton, it must be a good hockey town," he reasoned. Discussions ensued and the relocation became reality, much to Duncan's chagrin. "I'm losing my outdoor rink," he complained. "I don't want to go."
But when the Keith's arrived, Duncan was awestruck by his first impression of the Okanagan. "We had flown from Winnipeg to Vancouver and rented a car to drive," says Duncan. "I remember coming off the Coquihalla and seeing the lake and thinking how beautiful it was. I specifically remember blue water—it looked like tropical water, it seemed like paradise to me."
The Okanagan was also becoming a hockey mecca. Retired professionals and current NHL stars were coming here in record numbers. Hockey schools and summer training facilities were plentiful in a region that boasted uncrowded beaches, challenging golf and sunny weather.
"One of the first highlights for me was being able to go to all the Penticton Panthers home games to watch junior hockey with all those great players," says Duncan. "I watched more hockey than ever before."
Duncan would soon have his own Panthers number and he excelled under the watchful eye of coach Rob McLaughlin. Rob still tops the list of his favourite coaches along with American League coach Trent Yawney and Chicago's Joe Quenville.
His skating abilities always kept the coaches' attention long enough to downplay his diminutive stature.
"He was only 135 pounds, five foot nine at 16 when the Kelowna Rockets came calling," says David. Despite being cut from Team Pacific and the chance to compete at a world championship a year earlier, Duncan had caught the eye of scouts and he was asked to attend the Rockets' rookie camp in Strathmore where he continued to impress.
He stayed with the Panthers for two years and when Michigan State offered a full ride scholarship that eclipsed the Rockets' offer, he jumped at it. For a year-and-a-half, Duncan played the college league until December 2003 when he donned the WHL jersey.
"It was a very tough decision to leave Michigan State, but it was the right decision," says Duncan. "The guys (Rockets) were great from day one and some of my best friends come from that team."
Together with Kelowna's Josh Gorges and Sicamous's Shea Weber, he helped the Rockets to their best-ever year, winning 51 games, the league championship and the franchise's first ever appearance in the Memorial Cup.
Tough Lessons
"In order to be successful, you need to experience failure." These are the words David used to console his son when Duncan was dropped from rep teams like Team Pacific. The cuts seemed to motivate him even more because the young player would work harder in the off-season, at practice and in games.
Perhaps the hardest to swallow was the cut from the World Juniors roster (arguably, the biggest non-professional tournament on the planet) that baffles most Keith fans.
"I was excited to get picked at 18 to try out for the World Juniors and felt I deserved to make it," says Duncan. "The next year I didn't get to tryout."
The Team Canada coaching staff are probably still shaking their heads at his delirious successes of today but hockey is a tough game, physically and mentally. Nobody makes all the right moves all the time.
David remembers that his son didn't need a lot of consoling. "Dunc rationalized that he probably wasn't good enough at the time, so instead of fretting over it he just continued to work harder, to get better when the next opportunity came around."
Big Payoff
The cherished red and white jersey came in 2008. At his first World Championship, Canada took a silver medal, losing to Team Russia in the final. Two years later, he'd better his two assists to six and be an instrumental player helping Canada capture gold at the 2010 Winter Olympics.
Duncan continues to be a hard worker. At press time, he is leading the league in total minutes played, averaging 32 minutes a game with the Chicago Blackhawks and trailing only Sydney Crosby in the all-star voting.
And there's off-ice success as well with the endorsements you'd expect. Being an ex-banker, David especially likes the TV ads for Harris Bank where all the tellers start jumping over their counters (boards) only to be replaced by new tellers jumping back in. "Line change," is all they say to a surprised Duncan Keith.
Duncan is also featured in an video game commercial where he interacts with computer-animated teammates that, for some strange reason are not able to get open, so Keith decides to take the end-to-end rush himself—something Penticton and Kelowna fans were privileged to see quite often. It ends with him jumping over a defender, threading the puck between his legs and deking the goalie before sliding a backhand in for a decidedly Bobby Orr/Larry Robinson/Paul Coffey style goal.
"I grew up dreaming about the NHL and being on hockey cards," says Duncan. "I have to admit it is pretty cool to be on the EA Sports commercial. I get buddies texting me saying they just saw it."
Along with many Okanagan hockey fans, his Dad wonders why the great defensemen of today don't complete the end-to-end rush of yesteryear. "It seems the coaches all want conservative defensemen these days," he says. "The simple answer is to have a forward curl back and cover for the rushing d-man and we would have a more exciting game."
Back in the Okanagan, David and Jean are getting ready to drive to Chicago for a Christmas with the entire family. "We'll see five home games," says David. His son is very busy this year, largely due to the last year's unprecedented success and the demands on his time from eager fans, friends and family.
"I love the game of hockey," says David, "and I always told my children I would give them the opportunity to play as long as they wanted to."
Here in the hockey-crazy Okanagan, we're sure glad he did. —John Paul Byrne
Photo by Camillia Courts