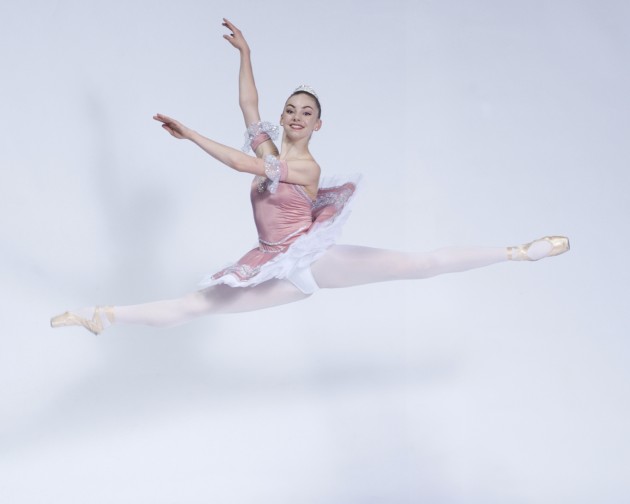 You might think Clare Fleming has wings tucked into her shoes, the way she effortlessly flies into the splits mid-uthorir. But no, there are no wings, just hours and hours and hours of training tucked under her belt that helped her soar to the top at the Performing Arts BC Provincials.
This was Clare's fifth trip to compete at provincials and she did Kelowna proud by being declared the winner in the most advanced Ballet III category.
"It was such a great experience," said the 17 year old ballerina, "getting to dance with dancers from all across the province."
The competition involved being observed in daily dance classes for a week and performing two different solos. Clare danced the Dulcinea variation from Don Quixote and a contemporary piece choreographed by Ballet Victoria prima ballerina Andrea Bayne. "At the end of the week,, they announced the top three for each level who would move on to compete in the finals that evening."
Dancing her contemporary number, Clare was declared the winner. There is no National championship for ballet or she would be moving on to represent the province.
Clare is hoping this will help her in her quest to dance professionally. She would be one of many dancers from Canadian School of Ballet who have gone on to professional careers.
Currently, Clare can be found training close to 30 hours a week in pursuit of her dream. In addition to her regular ballet classes at Canadian School of Ballet and dancing with Company B, she's been taking company classes with Ballet Kelowna and then doing private lessons with both Chris Larsen and Melville Brown of CSB and Natasha Sarafanov of Sarafanov Dance Studio.
"I'm working as hard as I can," said Clare, who still managed to remain on the principal's list at Immaculata Regional High School where she's just finishing grade 11.
It's been a busy year for Clare. Those who went to see the Nutcracker this past December will remember Clare as the gifted young dancer who performed the lead role of Clara. She also competed at the North American Youth Grand Prix Semi-finals last fall and has been invited to New York for the finals week.
This summer, she'll be off to the Royal Winnipeg Ballet's summer school. Although she's auditioned and been accepted several times in the past, this will be her first time attending as in previous years, she's opted to spend two summers in Toronto where she was also accepted by the National Ballet's summer program. She's also geared up to do the OSDI (Okanagan Summer Dance Intensive) again this year as well.
Having grown up watching Ballet Kelowna's dancers through the windows at the CSB studio, she knows the life of a professional dancer is where she wants to be. And with results such as her recent win at provincials, she's clearly soaring in the right direction.
Photo: Claire Flemming (credit: Glenna Turnball)